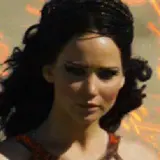 Katniss Everdeen came back on the movie scene with a vengeance as The Hunger Games: Catching Fire destroyed everything in its path with a record-setting debut. Nothing else came remotely close to the highly anticipated sequel.
The first Hunger Games arrived in March of 2012 to strong critical notices and legions of fans waiting to see their beloved book series turned into a live-action motion picture. That movie earned an incredible $152 million in its first three days en route to a magnificent $408 million domestic run. Expectations for the follow up chapter in the series, Catching Fire, were nothing short of sky high. Judging by the strong critical response (89% on Rotten Tomatoes), an "A" CinemaScore rating from ticket buyers on Friday and the $161 million earned by in its first three days on 4,163 screens, those expectations were met and then some.
Not only did the opening of Catching Fire break the all-time opening record for a November release (the previous holder was 2009's The Twilight Saga: New Moon with $142 million), it also surpassed last year's The Dark Knight Rises to become the highest-opening 2D release of all time. Should the estimates be a bit off for Fire, Rises will continue to hold that title. Catching Fire's opening ranks as the fourth biggest of all time behind Marvel's The Avengers, Iron Man 3 and Harry Potter and the Deathly Hallows Part Two.
The next challenge facing Catching Fire is its longevity. The original Hunger Games displayed great legs at the box office. Sequels tend to open big and burn out fast, which may stop Fire from matching or surpassing the first film's $408 million final haul. One thing is for certain: nothing will come close to its domestic haul this holiday season. Overseas, the movie is looking to be a bigger hit than the original. Since opening a week ago, Fire has earned $146 million to bring its global haul to a whopping $307 million so far.
With such a big event picture rolling into multiplexes, everything else took a tumble. Disney/Marvel's Thor: The Dark World fell 61% in its third weekend on 3,713 theaters to earn an estimated $14.1 million. To date, the $170 million sequel has earned a solid $167 million and should be able to reach the $200 million mark by the end of its run. Overseas, Thor and Loki have brought in a great $384 million thus far.
In third place was the surprise hit of last weekend The Best Man Holiday. The African-American comedy fell 58% in its second round to earn an estimated $12.5 million. After ten days the Universal hit has earned a great $50 million and should make its way to the $70-75 million mark, roughly four times its $17 million production budget.
The Hunger Games: Catching Fire wasn't the only wide opener this weekend. In an attempt to offer some counter-programming, Disney released the Vince Vaughn comedy/drama Delivery Man on 3,036 screens. Judging by the $8.2 million brought in during the film's first three days, it appears that few were taking Disney up on their offer to watch something other than Katniss fighting in the wild. Reviews for the film were on the negative side (35% approval rating on Rotten Tomatoes). The film may see a little bit of a business spike with the upcoming Thanksgiving holiday, but aside from that the film's box office prospects are limited to say the least.
Rounding out the top five was Relativity's animated comedy Free Birds. The 3D family feature eased 35% in its fourth outing to earn $5.3 million on 3,071 screens. Its total now stands at $48.5 million and could work its way to the $60 million mark by the end of its run.
The remainder of the top ten was as follows:
6. Last Vegas (CBS Films) $5.3 million (-48%); $54 million
7. Jackass Presents: Bad Grandpa (Paramount) $3.4 million (-53%); $95.4 million
8. Gravity (Warner Brothers) $3.3 million (-46%); $245.5 million
9. 12 Years a Slave (Fox Searchlight) $2.8 million (-39%); $29.3 million
10. Dallas Buyers Club (Focus Features) $2.7 million (+58%); $6.4 million
With two big holidays coming up this week, Thanksgiving and the start of Hanukkah, the new movie openings will be plentiful: Black Nativity, Homefront, The Book Thief, Disney's Frozen, and in limited release the Spike Lee remake of Oldboy and the Steve Coogan/Judi Dench feature Philomena. Frozen is appropriately the only one with a shot at cooling The Hunger Games: Catching Fire.
Happy Thanksgiving and Hanukkah!
– Shawn Fitzgerald