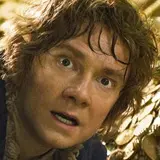 Warner/MGM's The Hobbit: the Desolation of Smaug fended off the Disney juggernaut Frozen to remain the number one film in North America for a third weekend in a row. The two hits helped fuel a busy Christmas week that saw holdovers ruling the roost, Paramount's The Wolf of Wall Street with a solid opening, Fox's The Secret Life of Walter Mitty scoring an okay opening and three other wide releases stumbling out of the gate.
Only the third 2013 film to stay at number one for three weekends in a row, Smaug made the most of the holiday period by declining a mere 5% to earn $29.8 million from 3,928 screens. To date the Peter Jackson epic has earned a big $190.3 million. In comparison to last year's An Unexpected Journey, Smaug is running approximately 15% behind and should finish around the $260 million mark. Overseas, the Middle Earth feature has earned a massive $423 million thus far with major markets such as Japan and China yet to open.
Close behind on Smaugy's tale was the Disney hit Frozen with an estimated $28.8 million from 3,335 screens. Despite being six weeks into its run as well as losing 205 theaters, Frozen surged 47% in business. With the only other family option being Fox's dinodud Walking with Dinosaurs, families flocked to the animated smash in droves. To date Frozen has earned a great $248.3 million and should be able to work its way to the $300 million mark domestically. Overseas markets have contributed $243 million so far. The film's $8,649 per screen average was the highest in the top ten.
Dropping one spot to third place was Paramount's comedy sequel Anchorman 2: The Legend Continues with an estimated $20.1 million. Off 25% from its opening weekend haul, the Will Ferrell hit has earned a great $83.6 million and should pass the 2004's $85 million (pre-adjusted) final haul by Tuesday. Ron Burgundy should work his way to a final domestic haul near the $125 million mark.
Holding firm in fourth place was Sony's con comedy American Hustle. Business was up approximately 2.3% from the film's first wide weekend of release on 2,507 screens. In its third weekend of overall business, the David O. Russell awards contender earned $19.5 million to bring its total to the $60 million mark. Word-of-mouth and upcoming Oscar nominations should keep ticket buyers streaming in throughout the next several weeks to push Hustle's final gross north of $100 million.
As is the case every Christmas Day, several high-profile titles were put into wide release. With holdovers already claiming their territory at the multiplexes, casualties are to be expected. What Hollywood was not hoping for was four out of five either underperforming or poorly performing, which was exactly what happened this weekend.
Of the five, only Paramount's The Wolf of Wall Street managed to make headway. The divisive Martin Scorsese dark comedy arrived on 2,537 screens to earn $34.3 million since Wednesday. The film's $18.5 million weekend haul was good enough to land the $100 million production in fifth place. Critics were largely in favor of the feature, bestowing it with a 76% approval rating on Rotten Tomatoes. Ticket buyers polled by CinemaScore were a little less enamored by the three-hour Leonardo DiCaprio film. They gave the movie a dire "C" rating (personally, I would give it an "A"). If word-of-mouth is indeed bad, then Paramount will have to hope that the Academy shows the Wolf some love to help it reach the nine-figure club.
As for the other four openings, Fox's remake of The Secret Life of Walter Mitty landed in seventh place with a $13 million weekend ($25.5 million since Wednesday) on 2,909 screens. Universal's costly ninja epic 47 Ronin finally arrived on the scene but could only muster a meek $9.8 million ($20.5 million since Wednesday) on 2,689 screens. The studio has already reported that they will be taking a $175 million write-off on the $200 million Keanu Reeves feature. Ouch.
Warner's Grumpy Old Boxers comedy Grudge Match was knocked out with $7.3 million in its first weekend on 2,838 screens to land in eleventh place. Since Christmas Day, Sly and Bobby have earned a weak $13 million. Rounding out the new releases with a pathetic $2 million from 1,037 theaters ($4.2 million overall) was the Justin Bieber documentary sequel Believe. Not even the pop star's retirement announcement could drive his fans into the theaters.
The remainder of the top ten was as follows:
6. Saving Mr. Banks (Disney) $14 million (+50%); $37.8 million
8. The Hunger Games: Catching Fire (Lionsgate) $10.2 million (+16%) $391.1 million
10. Tyler Perry's A Madea Christmas (Lionsgate) $7.4 million (-12%); $43.7 million
For the first weekend of 2014, Paramount unleashes the latest chapter of the Paranormal Activity franchise, The Marked Ones, to take on The Hobbit: The Desolation of Smaug.
Happy New Year, everyone!