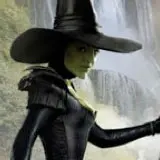 Disney and Sam Raimi's visually lavish Oz The Great and Powerful starring James Franco, Mila Kunis, Michelle Williams and Rachel Weisz became 2013's first film to break out at the box office. The same couldn't be said for the other newcomer, Dead Man Down, which never managed to pick itself up off the ground.
Oz had been tracking to earn around $25 million all week during its first 24 hours of release and came close to that projection with $24.1 million. That's not quite the astounding $40.8 that Disney's Alice in Wonderland put up on its first day. Then again, James Franco is no Johnny Depp when it comes to filling cinemas with screaming fans.
On its current trajectory, Oz will wrap its opening weekend somewhere in the neighborhood of $75 to $80 million. I tend to think it will push the upper end of that range with no real box office competition or other big event distractions going on this weekend to push potential moviegoers elsewhere.
Jack the Giant Slayer was slain by the Wicked Witch as is took second place with only $2.5 million. That's a disturbing 67% drop from its opening weekend a week ago and at $36.3 million thus far, don't expect Jack to climb much higher than $50 million in North America by the end of its run.
Dead Man Down with Colin Farrell and Noomi Rapace landed in third place with $1.8 million. That tally isn't too surprising considering Sylvester Stallone's recent action thriller Bullet to the Head could only muster $1.7 million on its opening day. Expect Dead Man Down to be dead on arrival for its opening weekend at around $5 million total.
Fourth and fifth place went to holdovers Identity Thief and 21 and Over with $1.8 and $1.6 million, respectively. Identity Thief continues to ad to its impressive totals with $112 million and counting. Though its the top grossing film of 2013 thus far, expect Oz to pass it within the next week or so.
Be sure to check back tomorrow to see if Oz The Great and Powerful was great and powerful enough to touch $80 million or perhaps soar a little higher.
Read our Oz The Great and Powerful review.