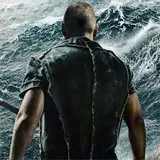 Darren Aronofsky's biblical epic Noah had a big debut at the North American box office this weekend. The Russell Crowe drama easily displaced last week's winner Divergent and earned nearly nine times as much as fellow opener Sabotage, which became the third straight bomb in a row for Arnold Schwarzenegger.
The journey to the big screen for the $125 million Noah hasn't been the smoothest, at least in its post-production phase. A creative tug-of-war between Paramount Pictures and Aronofsky following "worrisome" test screenings, negative polls conducted by Christian groups and a series of bans in Islamic countries worldwide all pointed toward a troubled production that took major liberties with its source material. As they say in Hollywood, however, there is no such thing as bad publicity. With a solid marketing campaign and largely positive reviews behind it, Noah finally arrived this past Thursday in North America and set sail on 3,567 screens to earn a promising $44 million in its debut.
As mentioned previously, critical notices for the historical drama, which stars Crowe, Jennifer Connolly, Emma Watson, Anthony Hopkins and Ray Winstone, were solid. The movie earned a 75% approval rating on Rotten Tomatoes. The consensus among ticket buyers, however, was a bit more divisive. Those polled by CinemaScore on opening day gave Noah a "C" rating, which may translate into rough seas ahead in North America. Overseas, the film may have a better run than it will in North America. After opening in limited release over a week ago, Noah has earned a strong $51.1 million so far. That total includes a fourth best of all-time opening in Russia.
After opening to $54 million last weekend, the Sci-Fi drama Divergent lost 51% of its opening weekend audience but still managed to bring in a solid $26.5 million in its sophomore session. After ten days the film has done $95.2 million domestically and could work its way to the $135-140 million mark.
Muppets Most Wanted seemed to find some stability in its second go-around following its mediocre opening one week ago. The movie was only off 33%, which may indicate that positive word-of-mouth is spreading on the latest theatrical adventure for Jim Henson's creations. Kermit and his gang earned $11.3 million on 3,194 screens this weekend to bring its ten-day total to $33.2 million. The film may work its way to the $50 million mark by the end of its domestic run.
Families continued to turn out for another recent feature Mr. Peabody & Sherman, which earned $9.5 million in fourth place. To date, the domestic haul for the time-travelling duo stands at $94.9 million and $102 million from foreign markets.
Rounding out the top five this weekend was another faith-based feature, Freestyle's God's Not Dead. After having a strong debut last weekend in limited release, the feature added 398 screens to its count, which now stands at 1,178. The expansion helped the feature earn $9 million to bring its two-week total to the $22 million mark.
Also expanding this weekend to solid results was Fox Searchlight's hit The Grand Budapest Hotel. Now on 977 screens, the Wes Anderson feature earned $8.8 million this weekend to bring its one-month total to a great $24 million.
The latest Arnold Schwarzenegger feature, Sabotage, wasn't as lucky in its seventh-place debut. The action thriller opened on 2,486 screens but could only manage a pathetic $5.3 million. Reviews were awful for the David Ayer-directed crime flick (22% approval on Rotten Tomatoes) and the dismal opening marked the third consecutive flop for the once-bankable Schwarzenegger. It was also the actor's worst opening for a film since Red Sonja 29 years ago. As was the case with The Last Stand and Escape Plan, the Open Road Films release will have to rely on foreign markets to turn a profit.
Rounding out the top ten were a trio of recent action flicks: Need for Speed in eighth with $4.3 million ($37.7 million to date), 300: Rise of an Empire in ninth with $4.3 million ($101 million) and Non-Stop with $4 million ($85 million).
Next weekend sees the return of Captain America in the much-anticipated sequel Captain America: the Winter Soldier. The Marvel Studios flick opened this weekend overseas where it took in a massive $75.2 million, a total that should be eclipsed by its North American debut next weekend. Suffice to say, Cap is going to send Noah packing as he takes over the number one spot without breaking a sweat.