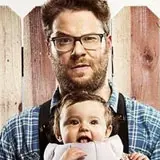 In The Amazing Spider-Man 2, Spider-Man had no trouble taking on Electro and The Green Goblin. At the North American box office, he proved to be no match when it came to Seth Rogen and Zac Efron. Much to the surprise of everyone, Universal's R-rated comedy Neighbors moved into the number one spot at the North American box office this weekend, easily displacing The Amazing Spider-Man 2. It also made mincemeat out of fellow newcomers Legends of Oz: Dorothy Returns and Moms' Night Out, which both bombed.
Proof that you don't need to spend hundreds of millions to make a hit movie, the $18 million Neighbors arrived in 3,279 theaters following an extensive period of marketing and screenings to earn a great $51 million. The huge opening represents the fourth best opening ever for an R-rated comedy behind The Hangover Part II, Sex and the City and Ted. The film was directed by Nicholas Stoller (Forgetting Sarah Marshall) and stars Rogen, Efron and Rose Byrne as Rogen's wife. Rogen and Evan Goldberg, who last teamed up on 2013's $100 million-grossing comedy This Is the End, shared producing duties on the film and also earned solid notices from the nation's critics.
Prior to opening Thursday night, Neighbors was expected to open in the high-$20 millions. When the Friday total turned out to be $19.6 million, nearly double what Spider-Man 2 earned on the same day, those predictions were revised considerably. Saturday's totals dropped 9% to an estimated $17.8 million while Sunday is expected to be in the $13.6 million range.
Advanced ticket sales for Neighbors were higher than any R-rated comedy since 2012's Ted, another Universal R-rated comedy that opened to $54.4 million and finished with $218.8 million. In recent years, the studio has used late spring/early summer to launch raunchy adult comedies that turn out to be long-running hits. In addition to Ted, Bridesmaids also opened in this time period three years ago and had longer staying power than most of the 2011 big-budget event pics did. Whether Neighbors follows in the same footsteps as Ted and Bridesmaids is still to be determined. Universal will see if they can keep their seasonal comedic winning streak going in three weeks when Seth MacFarlane's raunchy A Million Ways to Die in the West debuts. Neighbors also arrived in selected overseas markets this weekend to earn $34 million.
Dropping to second place after a big opening last weekend was Sony's The Amazing Spider-Man 2. The superhero sequel plunged 60% to earn an estimated $37.2 million on 4,324 screens. After ten days of release the latest Peter Parker adventure has earned a solid $148 million and could be heading toward a final haul around the $210 million mark. The steep drop is the norm for a superhero sequel's sophomore session. Iron Man 3 lost 58% of its audience in its second weekend while Thor: The Dark World eased 57% and Captain America: The Winter Soldier simmered down by 56%.
While that decrease is to be expected, it doesn't necessarily mean that the $255 million production has a long road ahead of it similar to the recent Iron Man and Captain America sequels. Mid-week numbers for Spider-Man 2 were a bit on the weak side, which may be a sign that viewer feedback has been a little short of amazing. With Warner's Godzilla debuting next Thursday night and the return of the X-Men a week after that, Spidey could be an afterthought long before the month is out. As with other big event pics that have underperformed in North America, the foreign market has provided some solace for the webslinger. Overseas totals stand at $403 million and should surpass the half-billion mark within the next couple of weeks.
Fox's female comedy hit The Other Woman continues to bring in the business in its third weekend. The Cameron Diaz comedy eased a mere 35% to earn an estimated $9.2 million from 3,306 theaters. To date, the comedy has earned $61.7 million and should have no problem hitting the $85 million mark, possibly more.
Another feature exceeding expectations is Sony's Heaven Is For Real. In its fourth weekend of release the faith-based drama lost only 19% of its previous weekend's crowds to earn an estimated $7 million from 3,048 theaters. To date, the drama has earned a great $75 million and could work its way near the $95 million mark, possibly $100 million if crowds continue to turn out.
Fifth place went to Disney/Marvel's long-running hit Captain America: The Winter Soldier with an estimated $5.6 million from 2,701 theaters. Off 27%, the Cap sequel has earned a spectacular $245 million after six weeks domestically and another $450 million globally. Cap and Black Widow are still eying a final domestic haul near the $260 million mark, a total that Sony would most likely kill for right about now with its current Marvel-based feature.
In addition to Neighbors, two other features opened in theaters this weekend, neither of which made any sort of impact with audiences. Sony opened another faith-based feature this weekend — a comedy — called Mom's Night Out on 1,044 screens, but failed to find the success that Heaven Is For Real, Son of God and God's Not Dead have this past spring. The Patricia Heaton feature could only muster $4.2 million, which was good enough for seventh place.
A new studio, Clarius Entertainment, arrived on the scene with the animated feature Legends of Oz: Dorothy's Return. Opening in eighth place on 2,575 theaters, Dorothy's Return was welcomed with a weak $3.7 million in its first three days.
The remainder of the top ten is as follows:
6. Rio 2 (Fox) $5.1 million (-33%); $113.1 million
9. Divergent (Lionsgate) $1.7 million (-22%); $145 million
10. Brick Mansions (Relativity) $1.48 million (-60%); $18.3 million
Next weekend heralds the return of Godzilla from Warner Brothers while Disney counterprograms with the sports drama Million Dollar Arm.