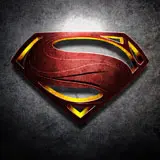 Superman is back in business with the Warner Bros. and Legendary Pictures tentpole film Man of Steel soaring past the $500 million mark at the worldwide box office on Saturday, June 29. There's still room ahead for the Superman reboot to tack on another $150 million or more before gearing up for its Blu-ray and DVD release.
The announcement was made by Warner Bros. who cites the domestic Man of Steel box office tally at $248.7 million and international at $271.7 million through Friday, totaling $520.4 million overall. Of that total, $45.9 comes from IMAX screens with $27 of those tickets being sold in North America.
With nearly $250 million in the bank in North America, Man of Steel is now the second highest grossing film of 2013 behind only Marvel's Iron Man 3 which has racked up $405.4 million behind Robert Downey Jr.
When Man of Steel opened in mid-June, it set the all-time June box office record for an opening weekend with $116.6 million. With a budget of an estimated $200 million, Man of Steel needed to earn around $450 million before breaking even at the box office, not including merchandising and home video sales. Man of Steel is not yet available to pre-order on Blu-ray or DVD but should end up with a release date in October or November at the latest.
This past weekend, Man of Steel was able to level off its second weekend decline of 65% and reel it in to a more appropriate 50%. A strong CinemaScore of "A" should help Man of Steel draw in some additional eyeballs over the Fourth of July holiday.
Man of Steel's success comes as Superman celebrates his 75th anniversary. More importantly for fans of the character and DC Comics, the film's success has opened the door for director Zack Snyder and the producing team including Christopher Nolan to look forward and prepare to expand the universe with a Man of Steel sequel and the introduction of other characters such as The Flash, Batman, Aquaman, Wonder Woman, Lex Luthor, Green Lantern, Cyborg and more.