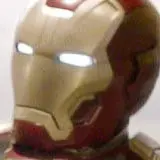 Marvel's Iron Man 3 starring Robert Downey Jr. punched through the $1 billion mark at the worldwide box office on Friday, achieving the impressive feat in a mere 23 days.
Iron Man 3 now stands in position 16 on the all-time worldwide box office grossers list with $1.0008 billion. Next up to pass for the iron-clad Avenger is Christopher Nolan's The Dark Knight which settled into the 15 position previously with $1.004 billion.
Here in North America, Iron Man 3 crossed the $300 million mark with $301.9 million and counting. It is expected to wrap up its North America box office run somewhere in the neighborhood of $350 to $400 million.
Overseas is where Iron Man 3 has really shined with $698.9 million to date. China is the standout country with over $100 million in ticket sales, fitting considering Marvel and Disney shot exclusive scenes for Chinese audiences and marketed heavily to it.
In comparison to the previous Iron Man films, the third has been the charm. The original Iron Man earned $585.2 worldwide, while its sequel Iron Man 2 earned $623.9. The advantage Iron Man 3 had over its predecessors was the inclusion of 3D which added extra revenue via ticket surcharges for 3D showings.
The higher Iron Man 3's box office totals soar, the more bargaining power Robert Downey Jr. will have during negotiations to appear in The Avengers 2. Downey Jr. is not currently under contract, though Marvel and boss Kevin Feige were clear in closing the Iron Man 3 credits with the text, "Tony Stark will return." Either Marvel signs Downey Jr. to a huge contract, or someone else steps into Stark's shoes, which would be awkward at this point of the Marvel Cinematic Universe to say the least.