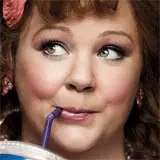 A weak pair of debuts and return of The Rock proved to be no match to Universal's hit comedy Identity Thief as the Melissa McCarthy flick regained the top spot at the North American box office on Academy Awards weekend. Bad weather across the country and a stale selection of multiplex offerings added up to a weekend that saw business dip 20% below last year at this time.
After narrowly being defeated by A Good Day to Die Hard last weekend, Identity Thief reclaimed the throne with a $14.1 million estimate on 3,222 screens in its third round, an audience erosion of approximately 40%. To date, the Jason Bateman and Melissa McCarthy comedy has earned a great $93.7 million and should cross the $100 million mark by next Friday. Depending on how well it holds in the upcoming weeks, Identity Thief should wind down its theatrical haul near the $130 million mark.
Landing in second place with the best per-screen average in the top ten this week ($5,177) was the Lionsgate thriller Snitch starring Dwayne "The Rock" Johnson and Susan Sarandon. It arrived on 2,511 screens to earn a mediocre $13 million in its first three days after receiving equally mediocre reviews.
Benefiting from being the only family offering in theaters was the Weinstein Company's Escape From Planet Earth. The PG-rated computer animated comedy eased a mere 30% from its President's Day weekend opening to earn $11 million on 3,353 screens. To date, Planet Earth has earned an estimated $35 million and should finish its run between $55-60 million.
Fourth place went to the Relativity release Safe Haven. The latest Nicholas Sparks novel to be made into a movie, Haven lost 50% of its audience in its second week of release to earn $10 million on 3,223 screens. The movie has earned a respectable $48 million in its first 11 days and should finish with an estimated $65 million, considerably lower than 2010's Sparks offering Dear John ($114 million) but a bit more than last year's The Lucky One, which earned $60 million last April.
After opening at the top spot a week ago, the latest in the long-running Die Hard franchise, A Good Day to Die Hard, suffered a direct hit thanks to dire word-of-mouth. The critically lambasted Bruce Willis action flick lost 60% of its audience in its sophomore session to earn an estimated $10 million on 3,555 screens, bringing its domestic 10-day total to an anemic $51 million. Should business drops continue to occur at this rate, A Good Day to Die Hard will be lucky to reach the $70 million mark or roughly a little more than half of what Live Free or Die Hard earned six years ago. As expected, the foreign market is coming to the rescue with $132 million and counting.
The second debut of the weekend, the horror film Dark Skies bombed right out of the gate. The film was not screened for critics in advance (shocker!) and audiences weren't all that thrilled with it either. They gave it the movie a harsh "C+" rating on CinemaScore. Crawling its way to sixth place on 2,313 screens, Skies earned a weak $8.8 million in its first three days. One thing the Weinstein/Dimension release has going for it is its production cost: $3.5 million.
The remainder of the top ten was as follows:
7. Silver Linings Playbook (Weinstein) $6 million (-3%); $107.7 million
8. Warm Bodies (Summit) $4.7 million (-46%); $58.2 million
9. Side Effects (Open Road Pictures) $3.5 million (-44%); $25.2 million
10. Beautiful Creatures (Warner) $3.4 million (-55%); $16.3 million
As we all know, this weekend brings us the biggest self-congratulatory ritual of the year, the Academy Awards. Aside from the continued strong run of Silver Linings Playbook, other nominated features enjoyed one last weekend of Oscar exposure at the box office. Front-runner Argo continued to bring the money in despite being on home video. Ben Affleck's political thriller earned $1.97 million to bring its overall haul to the $130 million mark. Zero Dark Thirty brought in an additional $2.2 million to up its total to the $91 million mark, while Lincoln and Life of Pi grossed an estimated $1.5 million each. The Steven Spielberg smash has earned $179 million to date and the Ang Lee hit has earned $113 million.
Next weekend, Warner unleashes Jack the Giant Killer while 21 and Older, The Last Exorcism Part II and Phantom also arrive in a fight to unseat Identity Thief.
– Shawn Fitzgerald