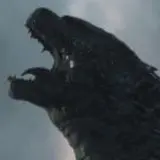 The King of Monsters can also be crowned The King of the 2014 Box Office after director Gareth Edward's Godzilla shredded the competition on Friday and blew away estimates to have the biggest opening day of any movie this year thus far. The other newcomer, Million Dollar Arm, had a rough opening day on the mound but could see an uptick from matinee showings on Saturday and Sunday.
Godzilla, starring Bryan Cranston, Ken Watanabe, Aaron-Taylor Johnson and Elizabeth Olsen, took advantage of nearly 4,000 locations, strong word of mouth and a tantalizing advertising campaign to earn $38.5 million on Friday including $9.3 million from late Thursday screenings. The opening topped the previous 2014 champ Captain America: The Winter Soldier with $36.9 million. By Sunday, expect Godzilla to also top Cap's $95.02 million opening weekend, also tops for 2014 as of today. The current estimate for Godzilla based on the big guy's big Friday is somewhere in the neighborhood of $98 million.
Godzilla box office reign could be shortlived for a number of factors. The film scored a "B+" CinemaScore rating on Friday, which isn't awful, but isn't all that great for a blockbuster, either. That could negatively impact word-of-mouth moving forward if the naysayers speak up and few return for second viewings. Godzilla will also have to contend with Fox's X-Men: Days of Future Past next weekend that will eat directly into its target audience demographic en route to an opening weekend projected north of $100 million.
Last week's champ Neighbors slid into second place with $8.4 million and now has earned $73.9 million overall. The R-rated comedy starring Seth Rogen and Zac Efron should earn around $25 million through Sunday and reach $100 million by the end of next weekend.
The Amazing Spider-Man 2 offers a glimpse of what will happen to Godzilla next weekend as it got tail-whipped backward by 55 percent from a week ago to earn $4.5 million on Friday. It will surpass $160 million on Saturday domestically and is closing in fast on $600 million worldwide.
Buena Vista's Million Dollar Arm starring Jon Hamm and Bill Paxton could only muster a $3.46 million opening day or roughly half the debut of the most recent baseball film, Moneyball. Matinee showings should give Million Dollar Arm a small boost and help propel its opening weekend just north of $10 million. Early estimates were aiming for $15 million so these results have to be disappointing for all parties involved.
The Other Woman with Cameron Diaz, Leslie Mann, Kate Upton and Nikolaj Coster-Waldau capped the top five with a hair over $2 million on Friday. It has now earned $133 million worldwide and could become a sequel target for Fox.
Speaking of sequels, Warner Bros. and Legendary Pictures have a franchise-starter on their hands. You can bet Godzilla sequel talk is already underway at the executive level.
Check back tomorrow to see if Godzilla held pace to reach $98 million, slumped on Sunday, or found extra stamina to reach the $100 million opening weekend mark.