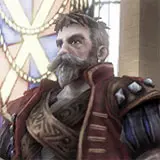 Accompanying Lionsgate's hands-on demonstrations of Fable 3 this past week at Comic-Con are a trio of new screenshots snapped directly from the game.
In the screens you can spot villain Logan probably up to no good, some sort of passenger vehicle on an inverted track, and the casting of a new and improved ice spell.
Click any of the Fable 3 screenshot thumbnail images below to view the pretty high resolution versions. Fable 3 hits stores for Xbox 360 and the PC on October 26. Click here to pre-order Fable 3 standard or limited edition for a discounted price at Amazon.com.