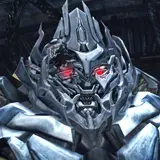 Activision and High Moon Studios have announced their tie-in game with Transformers: Dark of the Moon is coming to Xbox 360 and the PS3 this summer. Additionally, Behaviour Interactive is working on distinct versions for the Wii, DS and 3DS systems.
Unlike previous Transformers movie-based games, Dark of the Moon is being developed as a prequel to the upcoming Michael Bay film. This strategy allows High Moon to utilize new characters that appear in Dark of the Moon the movie such as Decepticon Shockwave, without having to adhere to a strict script construct to tell their story.
The game will feature a new 'Stealth Force' conversion mode that pimps out Autobots and Decepticons with weapons while they are transformed in their alt-modes. You can see Bumblebee flexing his might in 'Stealth Force' mode via the game's first teaser trailer (as well as get a first-glimpse at how Shockwave will appear in the game).
>
Activision confirms that some of the game settings will include the Jungles of South America, Siberian military facilities and Detroit Cityscapes. In addition to a story mode, online multiplayer modes will also be available.
Click on any of the three Transformers: Dark of the Moon game screenshots below to view the big high resolution version or take a closer look at the Transformers: Dark of the Moon film.