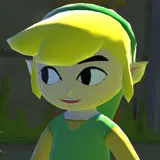 Nintendo used their Nintendo Direct presentation earlier this morning to confirm not one, but two Zelda games are coming to Wii U in the future.
The first Zelda game is an HD remix of the 2003 GameCube game The Legend of Zelda: The Wind Waker. You can peruse screenshots of this Zelda port to Wii U below that validate the game's stylized animation and improved graphics go hand in hand. Nintendo will be releasing The Legend of Zelda: The Wind Wake HD (tentative name) sometime this fall.
Nintendo also finally confirmed that an all-new Zelda game is currently in the works. This has been assumed for some time but never formally announced by Nintendo themselves. Unfortunately that's we get for now; confirmation. The Wind Waker will have to appease Zelda fans looking for a Wii U experience this fall as the new title isn't expected until sometime in 2014 at the absolute earliest.