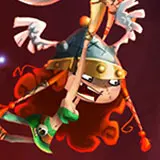 When it comes to must-own Nintendo Wii U launch titles, Ubisoft seems to be a step ahead of the pack. Zombie U and Assassin's Creed 3 are the "mature" games that Nintendo hopes will draw in core gamers, while Rayman Legends is so visually stunningly gorgeous that it demands to be owned based on looks alone. Never mind the fact that it's a blast to play with the Wii U GamePad controller.
We already know Zombie U is a Wii U exclusive and Assassin's Creed 3 is not. Rayman Legends could have gone either way, and now it is confirmed that, like Zombie U, the only place to play it will be on Wii U.
Ubisoft has not yet announced a release date for Rayman Legends but has confirmed it will be out in time for Christmas. Barring any development snafus, I would expect Rayman Legends to be sitting on store shelves the day Nintendo releases the Wii U console. All indications point toward a November release.
Watch the Rayman Legends Gamescom Wii U trailer, cover art and high resolution Gamescom screenshots (click to enlarge) below.
Click here to pre-order Rayman Legends on Wii U for $49.99 at Amazon.com.