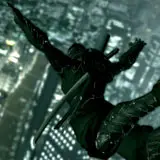 As work continues at FromSoftware on the Xbox 360 exclusive Ninja Blade, word has come out that Microsoft Game Studios is planning to release the title in "early 2009."
In Ninja Blade, players step into the role of Ken Ogawa, a last surviving Ninja tasked with ridding Tokyo of monsters created by a genetic disease.
Players will have Ninja Vision, which can target weak spots on enemies and find hidden goodies, and Todomé Attack, which can kill an enemy with a direct hit to the heart, to fend off small and towering foes in a digital replica of real-life Tokyo. The top of every building is fair game.
You can get a flavor for the incredible graphics work FromSoftware has completed thus far in the new screens below. Is that a Rancor we see? Nah.