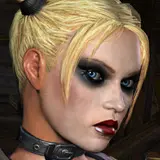 They leaked a little early yesterday, but below you can check out a trio of new screens and a recruiting poster from Batman: Arkham City on Xbox 360, PS3 and PC in high resolution.
The screens reveal the final render for Harley Quinn, Batman in flight, Batman as a predator, and Two-Face's idea of recruitment for his cause. Harley looks especially outstanding and figures to play a big role in the game's plot.
The second entry in the Batman game saga from Rocksteady Games, Arkham City has become the new home for Gotham's less desirable and law disobeying citizens. It is a prison city within the city of Gotham where rules and the law don't mean squat.
Rocksteady Games is hard at work on Batman: Arkham City which should hit stores this fall.
Click any of the screenshot thumbnail images below to view the big and pretty high-res versions.