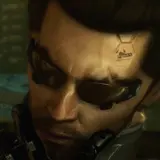 Square Enix has passed along a new trailer and five screenshots taken from Deus Ex: Human Revolution, the upcoming sci-fi action/RPG sequel coming to Xbox 360, PS3 and PC on March 8.
Much of the trailer offers a narrative set-up for the game in which you'll take control of mechanically-augmented Adam Jensen. There's a sprinkle of gameplay footage if you stick around until the end, as well as hints at some of the weapons and augmentations you'll have at your disposal.
Click any of the Deus Ex: Human Revolution screens below to view the pretty high resolution versions.
>