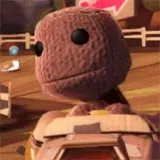 Sony has officially announced LittleBigPlanet Karting is coming exclusively to Playstation 3 later this year after confirming the title's existence last month.
Developer United Front Games is hard at work on the latest LittleBigPlanet franchise title that will utilize the "Play, Create, Share" tagline in a racing environment for the first time. Sackboy and all his buddies will tear through expansive 3D environments in customized karts that range from buckets of bolts to futuristic hovering vehicles.
As would be expected from a LittleBigPlanet Karting game, customization will extend far beyond the drivers and karts they race in. Players will be able to edit level layouts, create their own tracks, and set game rules and available weapons.
What the arrival of LittleBigPlanet Karting later this year means for ModNation Racers remains to be seen. The latest incarnation of ModNation Racers was released on Playstation Vita. At this time, LittleBigPlanet Karting is not planned to drive onto Sony's new handheld gaming console.
Check out the LittleBigPlanet Karting PS3 cover art, trailer and some screenshots below.