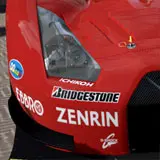 Sony surprised us this evening by releasing the first five official screens from Playstation 3 exclusive Gran Turismo 5.
The surprise is not so much what's seen in the imagery which is nothing more than different views of a menu screen. Thus far, Sony has been relatively mum publicity-wise concerning Gran Turismo 5 on PS3 since Prologue was released.
Gran Turismo 5 boats over 1,000 cars — more than twice any other comparable game — and a slew of cool tracks for them to drive on. Polyphony Digital has come through with full vehicle damage and rollover crashes, online racing with voice chat, customizable online events, and YouTube connectivity for uploading replay videos.
Barring any (more) delays, Gran Turismo 5 should be in stores before year's end.