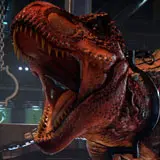 Sony's upcoming PS4 console will be getting into the dinosaur business with today's announcement that Primal Carnage: Genesis is in development by Lukewarm Media for the next generation console.
In the teaser trailer powered by Epic's Unreal Engine 4, a gigantic lab is seen growing dinosaurs Jurassic Park-style with a gigantic full grown T-Rex in the center incubation container. The sleeping t-rex wakes up as the camera slowly zooms in on it, then he smashes out of his watery prison, destroys some kind of security device by biting its "head" off, then roars and stomps on top of the camera to end the little demo.
In describing the idea behind Primal Carnage: Genesis, Lukewarm Media game director and company founder Ashton Andersen explains that they wanted to create the experience of what it was like to walk amongst the dinosaurs. Examples given of dinos that will appear in the game along wtih the t-rex are the brachiosaurus, velociraptor and dilophosaurus, though you can bet many more species will be represented.
Billed as a first-person adventure, Anderson calls the gameplay a "mix of linear and open-world exploration" that will be backed by a strong story told via an episodic approach.
"It was a difficult decision for us, given the relative newness of episodic storytelling," Anderson added.
It's still unclear what the ultimate goal for players in Primal Carnage: Genesis will be given the absence of actual PS4 gameplay in the teaser. Is it a first-persons shooter where the dinosaurs escape and must be hunted and brought back to the lab? Or will there be other tasks that must be completed whilst avoiding a dino entanglement?
The gaming universe could sure use a good dinosaur adventure. Turok had potential that it never fulfilled, and Dino Crisis suffered from an identity crisis. The door is wide open for Primal Carnage: Genesis to hit the right dinosaur chord on PS4 as Jurassic Park 4 gears up to stomp into theaters next year.
Watch the Primal Carnage: Genesis teaser trailer and check out some high resolution screenshots below.
Source: PS Blog