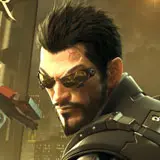 Deus Ex: Human Revolution – Director's Cut is the latest third-party port headed to Wii U following in the footsteps of Need for Speed: Most Wanted and Batman Arkham City: Armored Edition.
Publisher Square Enix is calling this version of the game "definitive" and promising extensive use of the Wii U's GamePad for touch-screen hacking, interactive map editing, augmented sniping, grenade throwbacks and many other neural hub enhancements. Other features include access to developer commentaries, in-game guides, and in-depth Miiverse integration.
Here's some additional bullet points that spell out what you can expect, including some unexpected gameplay tweaks. This version seems pretty definitive to me.
NEURAL HUB – The Wii U GamePad becomes your Neural hub, a new and immersive way to control your augmentations and more.
ENHANCED GAMEPLAY – Overhauled boss fights, enhanced visuals, reinforced combat mechanics and much more.
DIRECTOR'S CUT FEATURES – Along with in-depth Miiverse integration, get access to developer commentaries and an in-game guide.
ALL BONUS CONTENT INCLUDED – Includes Tong's Rescue and New Game+. With additional weapons, blast your way through the 5 hour-long Missing Link bonus mission.
Deus Ex: Human Revolution – Director's Cut for Wii U does not have a release date yet, but I would expect it out this spring since Square Enix was willing to share the finalized box art in the initial announcement.
Check out a handful of Deus Ex: Human Revolution – Director's Cut high resolution screenshots below the box art.