There seems to be a little bit of Chris Parnell in everything. Whether you know his face from his roles on Saturday Night Live, Suburgatory, or as the legendary Dr. Leo Spaceman on 30 Rock (not to mention the 80 or so other cameos in TV and film he's made in his career), or if you know his voice as Cyril in Archer, Jerry in Rick and Morty, or even the Progressive Insurance box, Parnell is one busy guy.
Chris Parnell's next big project is the new Netflix Original relaunch/reimagining of the classic Jay Ward/Ted Key Improbable History series of shorts starring Mr. Peabody and Sherman. In The Mr. Peabody and Sherman Show, which hit Netflix on Friday, October 9, Parnell voices Mr. Peabody, the genius inventor/time traveling dog who hosts a nightly talk show and goes on historical adventures with his adopted son, Sherman (voiced by Max Charles). The show picks up where the 2014 Dreamworks Animation film left off, and Charles even reprises his role as Sherman. Parnell replaces Ty Burrell, and if the early clips mean anything: he pulls it off with aplomb.
Recently, we sat down with Chris to talk about The Mr. Peabody and Sherman Show, voice acting versus live acting, and even his favorite SNL skit.
When asked on how the role of the iconic Mr. Peabody came about, Parnell explained what he did to land the role.
"You know, it was an audition," Parnell explains. "I think I actually…I auditioned for another voice which was based on the original cartoon I think they just looked at some copy of this courtroom scene where Peabody adopts Sherman and I did that and I think after that, I went to a second stage of auditions for Peabody himself and it was down between me and couple of othe guys and they liked me."
But was he a fan going in? He commented on what it took to prepare for the role and how the new format changes the classic Ted Key shorts.
"I went back and watched some of the originals. I tried to get Bill Scott's voice down as much as I could. I then — I brought my own thing into it, of course. And this Peabody, because he and Sherman have a late night talk show in their New York penthouse, it required an extra set of big personality that I don't think they needed for the original. It's one of the cool things about playing him. He's obviously an iconic character but then to get to explore it all in the way that this version of the show allows. We still do time travel; we still have the WABAC; we have guests for the past that come on the show. But this Peabody, besides really caring about his boy Sherman, he also really cares about this show and hosting it and making it go well. And that is the driving thing for him — even though the show often does not go well and is usually a disaster in one way or another."
Was he a fan of the show before signing on for this new updated version of The Mr. Peabody and Sherman Show?
"I was," he admits. "They were around a little bit before my time, but I certainly had watched some of them as a kid, and went back and re-watched quite a few of them, which was very fun to do."
Max Charles reprises his role of Sherman from the 2014 theatrical film. Did he give Parnell any pointers on the character and was it a challenge to be the new guy in the voice studio?
"It's certainly fun to work with him. He brings just this fantastic enthusiamasm to Sherman that is exactly what it should be. He's (Charles) off doing other things part of the year: shooting in Canada on The Strain and things like that. He's there for, I don't know, at least 60 percent of the records, so we get to be in the same room and get to play off each other, which is pretty great."
History obviously plays a huge role — as improbably twisted as it is — in Mr. Peabody's world. Was Parnell a fan of history going in?
"I'm not-not a fan of history," he says. "I can't claim that I'm a history buff or anything like that. I've learned about certain historical figures that I wasn't familiar with. In what they're known for, but I didn't necessarily learn a lot of historic details as the shows turns history on its ear a bit. It's based on historical truth but the goes off from there."
Does Chris Parnell have a favorite historical period?
"Well, I — it's not that long ago, but one of my favorite movies is Chariots of Fire, so I sort of love the early 1900s and England around the time and sort of the prep school world of those guys and there's something very romantic about all that to me. History wise, I mean, beyond that, going back further. Alexandria and the seeds of the birth of civilization. All that stuff is pretty fascinating. But my knowledge of all that is cursory."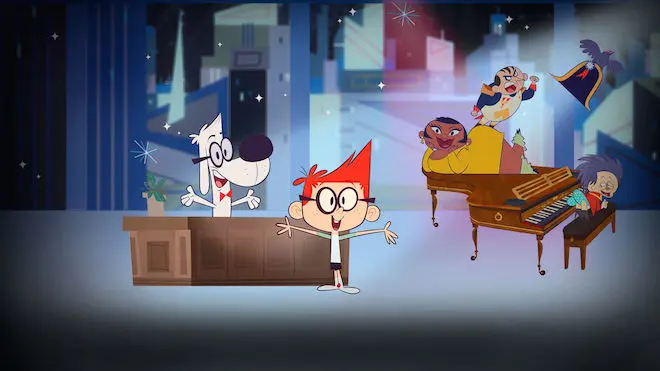 The new show features guests taken from history, and Edgar Allen Poe is one of the biggest literary guests in this first season. Does Chris have a dream guest for The Mr. Peabody and Sherman Show to feature?
"I don't know if we've done Shakespeare yet. That'd be a pretty great character to cover and I have to believe that we would at some point."
Switching gears, the conversation turns toward another popular animated program in Adult Swim's Rock and Morty, which aired its season 2 finale recently. We asked him about the finale episode, and if he had any thoughts on it.
"It's been so long since I recorded it that I'm only early reminded of it after the preview of the last episode with Squanchy. I believe there's a wedding involved. An interspecies wedding. But, it's you know, its kinda more of the same insanity of Rick and Morty —  of that world — and its gonna be great. I can guarantee you of that. It's so much fun to watch. Like I said, it's been so long since I recorded them that watching them is like 'oh yeah' you know to see what they do with the animation is pretty fun."
Actors are known for adding a bit of themselves to each character they portray. We asked Chris how much of himself does he add to his animated roles.
"A pretty good amount, I guess," he admits. "I don't tend to think of it in terms of how much of it is me or not me. Especially when the writing is as good as it is on Rick and Morty, Archer and Peabody and Sherman. It's sort of bringing that to life. It's gonna necessarily have me in it, and while I'd like to imagine that I'm such a chameleon that I can create characters that are nothing like me, you know there's gonna be some of me in all of them.
"As for Jerry I mean, I can certainly relate to some of Jerry's insecurities and low self esteem and things like that. For Peabody, I appreciate his intellectualism — not that I'm like obviously a super-intellectual or anything, but I do find a lot of the things that Peabody's into interesting; science and stuff, so its really just…if you can find the voice, which, I don't tend to a crazy range of voices, like a Tom Kenny (Spongebob Squarepants, among many, many others), or somebody like that, who can do million different things. I mean everybody's gonna be able to tell it's me doing Peabody. It's kinda finding in yourself what you need to to bring a particular script to life and a particular line, a particular moment in a scene."
Switching gears once again, we turn to the show that introduced Parnell to the world: Saturday Night Live. We asked him if he had a favorite sketch, or at least one that was memorable among all of the sketches he worked on.
"You know, it would probably be the obvious ones," Parnell says. "Either 'Lazy Sunday' or 'Cowbell.' 'Lazy Sunday' was great because it was so out of the ordinary in terms of what kinds of stuff tended to happen on SNL. And I co-wrote it with Andy, Akiva, and Jorma. So that was, I guess that maybe was my favorite. But it's hard not to go back and look at 'Cowbell' and just enjoy everything that was going on in that — that made the scene so great.
"We did one…I think it was one of the first sketches I did when I got rehired. A sketch called Superbuzzers. I think I was playing Bert Convy actually himself and everybody — almost everybody in the cast — was playing a celebrity from the 70s on this gameshow. That was a pretty great way to come back to the show. And get to be part of — it really — any sketch like that where you have a lot of other cast members in it. Those tended — not surpringly — to be the most fun. 'Appalachian Emergency Room' was fun but, those rare moments, like in Superbuzzers where everybody was just out there on stage together, that was kinda the best in a lot of ways."
Another very iconic role that Chris brought to life was Dr. Leo Spaceman on NBC's 30 Rock. Spaceman (pronounced spuh-che-min) brought a level of outright insanity to a show that was already brimming with craziness. What was it like to create such a memorable — and quotable — TV character?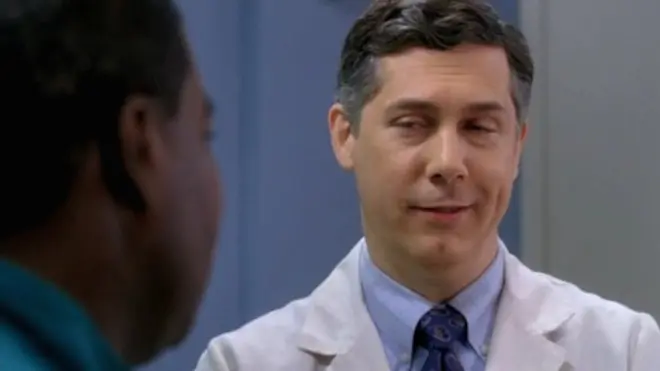 "It was a pretty great part to get to play," Chris says, nostalgia in his voice. "Just the lines that he had; that was all the writing staff. I think Dr. Spacemen was the brainchild of Robert Carlock — not to take anything away from Tina (Fey), who is obviously quite brilliant — but I think that came from Carlock and the beauty of it was that I think he had me in mind when he wrote it and it was just an offer. So they kind of  knew my voice from having worked with me on SNL. The phrase gets overused a lot by actors but it really was a gift, you know."
So, after talking about some of his most famous roles, and his newest as Mr. Peabody, one question remained: what is the real Chris Parnell like? Who is Chris Parnell?
"I'm super boring," he says. "I don't know. I'm a low key guy. I'm much more of an introvert, for sure. I did some on-camera press for Peabody and Sherman, and it's a challenge for me to be myself on camera. I have to, like, really try to make sure I have caffeine in me to bring up the energy level appropriately. Like it's much easier to do it as a character than it is to do it as myself in the context of a talk show because it's just not my normal mode of existence.
"I like photography and art, I got a 19-month-old son that, you know, is a huge part of our lives. My wife and I just celebrated our two-year anniversary and, I gotta say that I feel really lucky. I kind try to remind myself of about a lot and where I've landed in this point in my life — that I get to do such a variety of things. I get to do all these voice over jobs and I also get to do the on-camera series and guest stars and the occasional movie part. But for me, I don't know, I'm mostly grateful that I'm a working actor and I can make a pretty decent living for my family. Life's pretty good for us these days."
Coming full circle, we come back to The Mr. Peabody and Sherman Show. I ask him for his thoughts on the show and what is the best part of rebooting such an animated classic.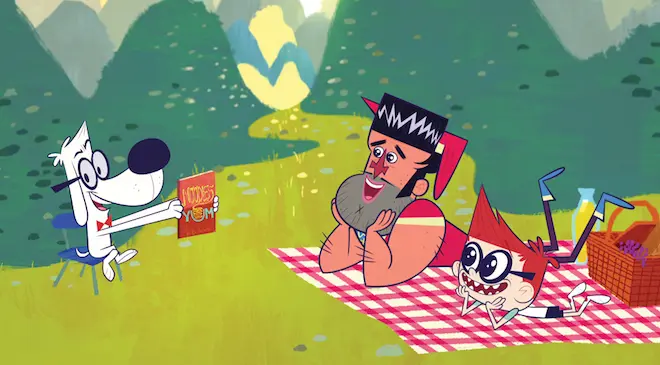 "Having looked at some clips, I'm very excited by what they've done with it," he says. "I didn't know what to expect. I always look at the storyboards every week just to sort of get a sense of what's happening in a scene, but you don't really know how it's going to look animated. I was really impressed with the look of the show and the artistic direction of it and the look they've created for it. It's definitely different than the original, but its a nod to the older animation styles. It's not the computer look obviously of the Mr. Peabody and Sherman movie, which I like those movies too — that have that kind of a look. But I think they made a good call in sort of creating the look of this show. In addition to everything else about it that I like."
Chris Parnell is a very busy man, and we truly appreciated his time to sit down and talk to us. The Mr. Peabody and Sherman Show is available now on Netflix, and it's pretty great. Chris Parnell continues to pop up in just about everything. Look for him in the new Amazon Prime pilot, Highston, and of course, Ricky and Morty season 3, and as Cyril in new episodes of Archer, among many, many other projects.