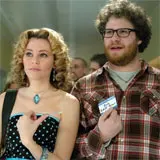 Fans have come to expect some clever but often juvenile humor, pop culture references and friendly buddy moments from Kevin Smith, and the director's latest effort, Zack and Miri Make A Porno (2008), delivers all that and more. Considering some of the crude moments in his previous films (the "stink palming" from Mallrats or the "interspecies erotica" in Clerks II), referencing "porno" in the title could have expectations running high. Well the name sums it up and we get all the expected vulgarity you can contain in an R rating with two real porn stars (Katie Morgan and Traci Lords) participating.
Lifelong platonic friends and current roommates Zack (Seth Rogen) and Miri (Elizabeth Banks) find themselves totally broke and unable to pay rent or utilities. While attending a 10-year high school reunion, they meet Brandon St. Randy (Justin Long of "Mac guy" fame) who is a gay porn star (becoming increasingly flamboyant the more he drinks) and boyfriend of former classmate Bobby Long (Brandon Routh playing against his macho Superman image). This gives Zack the idea that making an "adult movie" will be the fix to their financial woes, and a hilarious scene follows where he convinces Miri of the genius of the idea.
From here the movie plays somewhat as homage to Smith's first independent venture Clerks(1994) that was shot for cheap in the convenience store where the director was working at the time. Being strapped for cash, the duo utilizes the coffee shop where they are employed for sets and the shop's security camera for filming. Along for the ride are fellow coworker Delaney (Craig Robinson) who lends them his savings intended for an HDTV in exchange for auditioning the female leads, cameraman Deacon (Jeff Anderson of Clerks fame) and male "stars" Lester (Jason Mewes best known as Jay of "Jay and Silent Bob") and Barry (Ricky Mabe) to pair with the previously mentioned female "stars."
If you are a fan of Smith's distinctive brand of comedy, you are almost guaranteed to enjoy Zack and Miri and with the talents of Apatow alumni Rogen in play, the film provides consistent laugh out loud moments. The director has always been a fan of "potty mouth" humor, and the use of profanity is taken to an almost artistic level with scenes where the "f bomb" is used as a noun, verb, explicative and some forms of speech I do not know how to qualify often in the same sentence. As low brow as it may sound, it is surprisingly impressive if you are inclined towards this type of humor, and there is one scene involving "poop" which is simultaneously hilarious and over the top nauseatingly gross. Rounding out the vulgarity is a good sampling of nudity (both male and female) as you would expect from an endeavor based around making a porno though nothing too gratuitous (well maybe viewing Jason Mewes bending over from behind crosses the line).
However, what balances out all the crudeness, as amusing as it may be, is the love story occupying the core of the movie. Smith has utilized romantic storylines before, most prominently in Chasing Amy and Clerks II, but for my tastes the romance which develops between Zack and Miri is more consistently played out in the context of the film, better balanced with the humor and more moving (though I doubt it is enough for guys to convince their significant others into believing this is a chick flick). The climactic (no pun intended) sex scene is tenderly done with no nudity making it thoroughly romantic and about as anti-porno as can be.
While this film has not catapulted Smith into super stardom, it shows him being very comfortable in his directing style and is a commendable entry that holds up against his best output. If you did not like the director's work before, it is doubtful this will change your mind but it could gain him new fans who check out Zack and Miri as the recent Rogen flick and then dig into Smith's back catalog.
Weinstein/Genius provide a 1080p AVC encoded transfer that is not the most stellar in high-def but I will wager improves upon it's standard-def counterpart in detail and clarity and most likely presents Smith's intentions well. Framed at 1.85:1, the first impression I got from the image was "Apatow production" due to a visual feel similar to the recently reviewed Pineapple Express with slightly skewed contrast and lighting which gives many of the scenes a strange golden hue and vaguely throws skin tones off.
Detail is good in close ups but falls off in long shots, and there are many moments when blacks do not resolve as cleanly as could be hoped. However, I doubt anyone is watching a Kevin Smith film for the visual marvels and will be too preoccupied laughing to notice any deficits in the image. Grain is steady throughout and becomes a bit noisier in darker sections but nothing too offensive. All in all, this is a good if not spectacular transfer.
Much like the video, audio is decent but nothing astounding. The film is mostly dialog driven with some choice songs spread throughout but little that will give your surround system a good workout. The Dolby TrueHD 5.1 track does the best that can be expected with what it has to work with and at least dialog is consistently clear with random moments of some rear channel use.
Secondary audio is provided in English and French Dolby Digital 5.1 mixes with English (SDH) and Spanish subtitles.
Virtually every Smith home video release has been packed with extras and we get much of the same with Zack and Miri. Fans can dig into over 4 hours of supplemental material including a 75 minute "making of" feature, 95 minutes of deleted scenes, outtakes and webisodes. What is conspicuously absent is a commentary that has been one of the highlights of his previous DVDs and Blu-rays. The disc has BD Live capabilities that are not currently enabled, so maybe we will get an eventual commentary as an online feature.
Popcorn Porn: The Making of Zack and Miri (1:14:58) – A documentary film that covers the making of Zack and Miri from the original idea for the movie through casting, shooting and its eventual reception. All the main actors and long time collaborator/producer Scott Mosier give input. You get a lot of on sight shooting, details of the wrap party and test screening plus reaction to reviews.
The longest segment details Smith's fight to secure an R rating when the MPAA initially branded the film with an NC-17. He defends the "poop cannon" shot with artistic integrity and held steady against cutting it after making all the other required adjustments to lower the rating. Smith states statistics that only 4% of films submitted to the MPAA ever contest their rating and of those only 1% succeed. Zack and Miri is the third film Smith has successfully gotten the ratings board to overturn its initial judgment which is impressive.
Deleted Scenes (1:35:02, HD) – We are treated to extensive deleted scenes. In fact, there are 43 in total that run almost as long as the movie and are all in HD. Plus they are in chronological order, so it is much like re-watching the film. The scenes are more alternate and extended than real deleted scenes but are well worth watching for the humor value.
Money Shots: Webisodes (47:44) – 22 webisodes that include more behind the scenes footage with a good bit of goofing off and interviews between actors and several short but funny porn themed public service announcements.
ComicCon 2008 (23:09) – Kevin Smith hosts a panel including Rogen, Banks and Mewes along with Mosier, Katie Morgan, Traci Lords and Justin Long. There is some overlap with footage already shown in the main documentary but it is an interesting, if fairly standard, example of a Q&A panel at the convention.
Gang Bang: Outtakes, Ad-libs and Bloopers (13:00) – A number of scenes of the actors goofing off or flubbing their lines. The scenes where they crack up and cannot continue are the best.
Seth Vs. Justin: Battle For Improvisational Supremacy (7:24) – Outtakes of the scene where Seth Rogan and Justin Long's character's first meet at the high school reunion. It goes through multiple hilarious variations of their conversation.
BD Live – As of this writing this functionality is not enabled.
Zack and Miri Make a Porno is classic Kevin Smith with all the raunchy jokes and solid emotional elements that should more than please fans. Weinstein/Genius provide a high-def package that brings out the best the film has to offer which is competent but nothing amazing. As previously stated, most are not watching a Smith film to demo their home system but rather to revel in his distinctive humor which is abundant. While no commentary is delivered, the extras package is solid with over 4 hours of material sure to satisfy fans.
– Robert Searle