Ubisoft's Your Shape Fitness Evolved is the veteran publisher's contribution to the glut of fitness games available for Xbox 360's Kinect launch. Rather than allow you to slack off or outright cheat a workout with a physical motion controller, Your Shape's Kinect controls closely watch your body form and move execution in order to provide a graded score at the end of each workout. It's not an exact science as all motions are not graded equally, but there's enough correlation between your moves and the selection of cardio, Zen and gym game exercises you help you achieve your calorie burning goals and a respectable workout.
Achieving results in Your Shape is not for the self-conscious participant. Kinect's camera reads your body and produces a fuzzy mirror image of it on-screen. Your body's shape, whether slim or rotund, as well as facial features such are hair are represented. It can even tell if you're wearing baggy versus skin-tight clothes, though the former is not recommended as the extra material could affect Kinect reading your body – not to mention the discomfort associated with bouncing around in loose fitting gear. Half of the initial fun is dancing in front of the digital camera on the menu screens and watching your moves on-screen as if looking into a mirror.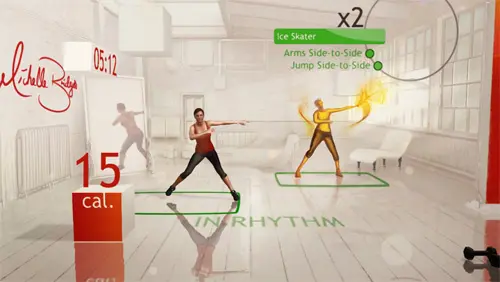 The exactness of your digitized body in Your Shape makes for a clever and revolutionary navigation scheme. Using your arms, you simply point sideways towards a menu item to activate it and then hold your arm under an "accept" button for 1-2 seconds to initiate it. This design is much more precise then Kinect Adventures' pointing forward, and dare I say it, somewhat fun to peruse the menus.
Your Shape includes a number of cardio (i.e. kickboxing), Zen (tai chi and yoga) and gym (hula hoop, punching out blocks) exercises to engage in. Each requires you to progressively unlock more difficult challenges with the beginning and intermediate levels fairly easy while the advanced will legitimately test your agility or balance. Your progress and scores can then be tracked and compared with friends online; a bonus on top of what is already a fairly fulfilling workout experience.
Oddly absent is an option to customize a workout routine, adjust the speed or pull in workout songs off the Xbox 360 hard drive. The rigid routine structure may become an issue for some after playing through each workout at least once. It would take you several hours to pick through every available workout in order.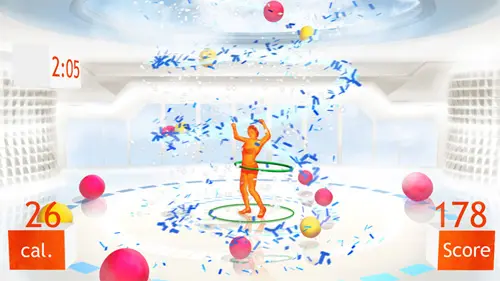 Ubisoft boasts that Your Shape tracks 1 million dots on your body to reduce lag interference and improve scoring accuracy. Most of the kicks and punches seem accurately tracked with no misses scored for what should clearly have been a hit. Crunches and some yoga poses, however, are more sensitive. Several of my crunches were not counted when I clearly had my behind grazing the floor, and several poses that looked like a spitting image of the virtual trainer were executed to seemingly perfection for not.
For a Kinect launch game, Your Shape Fitness Evolved plays like a second or third-generation offspring. If you play it seriously then sweat will be spent or your mind and body will relax. Its effectiveness, ease of use, and futuristic interface proves Kinect and fitness gaming belong in the same circle of close friends.
– Dan Bradley
Shop for Your Shape Fitness Evolved for Xbox 360 Kinect for a discounted price at Amazon.com.