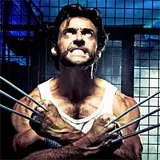 X-Men Origins: Wolverine was one of the first big summer movies out of the gate which naturally translated to being the first big summer movie to arrive on home video. With it comes a pair of alternate endings, one those who either passed on the film theatrically or bolted at the first glimpse of credits after being let down by the film missed, and the first appearance of IMDB data channeled via BD-Live exclusively on Blu-ray Disc.
Wolverine's origins, never before explored prior to the film, begin over a century ago when the then continuously sickly boy who goes by James and his brother, Victor, are forced to run away after James thrusts his newfound claws through his father's chest in an act of pure rage and vengeance. No explanation is given to why young James is perpetually sick or why he and his brother stop aging around the time they go to war, but director Gavin Hood achieves maximum visceral returns at the expense of logic; a theme that plays throughout the film.
An attempt by the US military to execute James and Victor, otherwise known as Sabretooth, for war crimes fails which brings our old friend Colonel Stryker (Danny Huston) calling sometime after the Vietnam War. The Colonel has changed a lot in his younger years since Singer's X-Men United. In perhaps his own secret reverse-mutation he seems to have grown a foot in height, forgotten his southern accent, and not yet discovered the ability to emote or project intelligence.
Stryker is persuading enough to convince a team of mutants that killing is acceptable to get what he wants without any of the mutants possessing an inkling of truth as to why they're doing what they're doing. Wade (Ryan Reynolds) is especially entertaining with his witty remarks and swords that slice through bullets and flesh alike even if nary a drop of blood touches the blade or floor. During the raid when Wade is let loose, the action and subsequent suspense of a murderous plot that sends Wolverine off into the Canadian woods to escape for several years are entertaining enough as to not worry about lapses in small details.
Domestication and Logan are not meant to last so thanks to a persuasive visit by brother Victor, Logan is forced by Stryker into the Weapon X project where he undergoes the infamous procedure to become "Wolverine." This genesis sequence is grueling to watch and I admit to cringing a bit when the needles inevitably began to inject Logan with liquefied Adamantium.
From this moment on, cringes shower like raindrops for all the wrong reasons. Somehow Logan is able to hear Stryker issue an order to wipe his memory from at least 30 yards away – and from underwater, no less. Once Logan a.k.a. the half-a-billion dollar project breaks free, Stryker immediately issues the order to kill him. Upon an entire of soldiers being wiped out by Wolverine, Stryker pulls out a gun case with custom lining for Adamantium bullets and instructs another military-type that only these bullets can kill Wolverine.
By this time Wade's return can't come soon enough but unfortunately when it happens in the closing minutes there's little suspense or cause to rejoice. Stryker never did like Wade's talking so he's achieved silence by sewing the mutant's mouth shut. There went the best personality in the entire film. That's OK because Wolverine and other "guest" mutants take over Stryker's secret base by knocking off the overwhelming security detail numbering in the less-than-five before a three-way fight atop a nuclear reactor brings the fun back into the film.
X-Men Origins: Wolverine spends so much time setting up potential moneymaking spin-offs for Fox with its various mutant cameos that it fails to succeed in telling a semi-intelligent and coherent story. Wolverine is at least fun, if deeply flawed, and sets up a sequel Fox is already moving forward on.
Fox brings X-Men Origins: Wolverine to Blu-ray in a strong 2.35:1 1080p AVC-encoded transfer that is both beautiful with clarity and gritty with a light sheen of natural grain, fitting for the hero it supports. The only noticeable problem area is with black levels that break up in some of the nighttime shots at the beginning and end of the film. Otherwise the high definition transfer looks fantastic, to a fault even in accentuating some of the unpolished special effects sequences such as Wolverine checking out his Adamantium claws in a mirror for the first time.
Wolverine is an especially loud film built around some enormous action sequences with smaller skirmishes sandwiched between. The 5.1 DTS-HD Master Audio track Fox has put together is, in a word, mind blowing. Deep bass and sharp directional surround use that pop up a handful of times in other films are the norm in this mix. From the faintest ambient noise to the implosion of a nuclear reactor, Wolverine's lossless audio never disappoints.
D-BOX Motion Code
A strong audio mix is a good indicator of an equally impressive D-BOX experience. X-Men Origins: Wolverine is no exception with solid jolts during Wolverine's youthful escape, the controlled vibration of gunfire and thud of explosions all breaking out before the opening title sequence wraps.
The mutant team's raid on a diamond compound is relatively light with motion, but things pick up substantially when Victor and Logan brawl inside and outside a bar. There are violent thuds of the men hitting the ground and stabbing one another, giant logs rolling to the ground capped by Wolverine being thrown in front of a speeding semi-truck. Not much later, Wolverine is being chased by Agent Zero in a helicopter which allows D-BOX to shift focus from violent motion cues to weightlessness effects.
Other noteworthy D-BOX scenes that stand out including Wolverine boxing with The Blob, the introduction of Gambit and is energy-charged stick, and the final showdown between Wolverine, Sabretooth and Deadpool. Any one of these scenes is worthy demo material by themselves. Chained together they are guaranteed to put a smile on your face and demand a return visit whether the story deserves one or not.
Live Lookup – Wolverine is the first Fox Blu-ray Disc to include this feature which allows you to access IMDB.com's vast databases of information on actors and their work while watching the film in either a full or minimized window. The Internet version is better as you can further click on a film an actor was in and follow links indefinitely. In this feature, you can view the actor's work but the breadcrumb trail ends there. Even so, this is one of the best and most creative uses for BD-Live yet that will hopefully appear on many more titles in the future.
Ultimate X-Mode – BonusView picture-in-picture mode that includes X Connect (filmmaker recollections), The Director's Chair, Pre-visualizing Wolverine and a Trivia Track; each viewable separately.
The Roots of Wolverine: A Conversation with Stan Lee and Len Wein (16:18, HD) – When Stan Lee talks, anyone with even a remote tingle of intrigue in comic books listens. Stan fields questions from Len which leads him to reflect on how he and Jack Kirby gave birth to and molded the X-Men universe, how the X-Men universe evolved and eventually leading into creating character Origins for the first time. It is a relatively brief but fantastic peek into the mind of a comic genius.
Wolverine Unleashed: The Complete Origins (12:05) – Hugh and the filmmakers explain who Wolverine is and what the film is about. A segment about Hugh's training regime is the only real draw.
Weapon X Mutant Files (53:57) – When viewed via the play-all function, 11 characters from the world of Wolverine are dissected via film clips, behind-the-scenes footage and interview snippets. Fun to hear the actors explain how they approach their mutant characters.
The Helicopter Sequence (5:53) – Filming the helicopter attack, chase and crash on location. Lots of old fashioned practical effects were used to pull the sequence off.
Deleted and Alternate Scenes (9:32) – The infamous young Storm scene shown in advertisements and the Japanese bar scene alternate ending are two of four scenes included. It's easy to see why young Storm was cut as her presence could not have been more forced.
World Premiere (6:22) – Footage from the world premiere held in Tempe, Arizona, the city that won an online competition to house it.
X-Men Origins: Wolverine is not the strongest mutant film available but it is a fair amount of fun with Hugh Jackman playing the role of the animalistic mutant with a burdensome conscious to perfection. I enjoyed it more a second time through once expectations were reeled in which is reflected in the film score versus my original theatrical rating of 5.0. Throw in the exemplary audio, video and D-BOX presentations, coupled with a nifty new IMDB BD-Live feature, and the Blu-ray Disc is worth checking out for its technological accolades alone.
– Dan Bradley