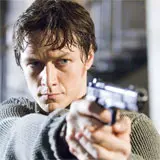 I never thought a director would up and call me a "pussy" straight to my face. Russian director Timur Bekmambetov, known for his almost perverse obsession with blowing filmgoers minds with wild and imaginative action, has done just that with Wanted. His willingness to "tell it like it is" is having a strange lingering effect on my apparently weak western-cultured mind.
Wanted is more than a stylish shooter with super slow-motion bullet effects reminiscent of The Matrix and crazed acrobatic gunplay from the likes of Shoot 'Em Up and Equilibrium. It is both a social commentary on how Americans have been lulled into their 9 to 5 jobs and a pathetic existence mashed together with Timur's trademark way over the top action set-pieces and flipping vehicles. Timur has edited Wanted as an R, a hard R at that with gory death scenes and enough blood to paint a mansion.
The graphic novel-inspired story is told through Wesley Gibson (James McAvoy), an accountant living the "Office Space" life who hates his job, watches his girlfriend cheat on him with his best friend and all around wonders what his purpose for living is. He is the penultimate American working-class "pussy," one of millions and lost in a crowd.
Wesley's way of life is turned upside down when he's approached by a mysterious beauty Fox (Angelina Jolie). After a wild gunfight and wilder nighttime car chase, a Timur must for any of his films, Wesley learns his anxiety attacks are a super-heightened ability to slow down time and his once-thought dead father is actually an assassin. He has been handed the key to make something of himself and spit on the society that caged him.
Timur knows how to design and shoot action as he's proven with Night Watch and Day Watch. Where those films were more abstract and hard to follow for Western audiences, Wanted is an easy-to-follow straightforward thrill ride with some of the best action sequences of recent memory. Just when you think a shootout on a moving train couldn't get any more intense or mind-blowing it does and you want more.
Wanted's beautifully constructed and photographed final scene will make even the biggest American "pussies" stand up, take notice and make strides towards growing a pair. Maybe that's what Timur "Wanted" when he signed up to direct.
Universal presents Wanted on Blu-ray as a two-disc set where the second disc is strictly a standard definition digital copy. An odd packaging configuration hides the feature film disc behind the package inserts so I can imagine how many excited new owners will accidentally pop the digital copy disc in first by mistake. A slip-cover is also included with an embossed effect on the bullet.
The feature is framed at 2.35:1 in 1080p resolution encoded with AVC MPEG-4. Timur has shot Wanted on the bright and over-saturated end I suspect was intentional to match the intense colors and visuals of the graphic novel. Colors are rich and strong due to the saturation, especially red blood which pops off the screen.
Though Wanted is a new theatrical release it was filmed with film, not digitally, so there is a generous portion of natural film grain. No post-processing appears to have been employed as I spotted no halos or edge enhancement. The overall presentation is that of a highly detailed yet gritty image which sees no ill effects from being transferred to Blu-ray.
Super-slow motion that transitions to fast-moving cameras flying through the air is a dream come true for sound designers. Wanted's 5.1 DTS-HD Master Audio mix takes advantage of Timur's unique direction on numerous occasions. When a gun discharges the effect starts with a quick high-pitched pop that then slowly drops into LFE which sweeps from the front to the rear of the soundstage. This sound effect is heard multiple times and each time I ran into it, I rewound to hear it again.
Dynamic audio is prevalent throughout the film, not only the action sequences. When Wesley steps into a giant active textile factory for the first time, the machines in the factory come alive from in front and behind. Wesley screaming, which he does on multiple occasions, echo throughout the room. It is hard to imagine this immersive mix in lossless form being any better than it currently is.
Almost all of the supplemental features on Wanted are presented in high definition with only one exception noted below. There's a lot of informative information spread out amongst various featurettes and U-Control that might have been more enjoyable and easier to follow condensed into two or three documentaries.
U-Control – Was there ever any doubt U-Control would find its way onto Wanted? Not only did Universal include the advanced high-def feature, but they used it noticeably more than in past HD DVD and Blu-ray releases. There's enough intriguing material scattered throughout U-Control to make taking the time to explore it worthwhile.
Wanted's U-Control configuration consists of these four options: Motion Comics, Scene Explorer, Assassion Profiles and Picture-in-Picture. The PiP feauture is available on all but 4 of 19 total chapters offering a wealth of behind-the-scenes footage, most of which trumps anything found in the standalone featurettes.
Motion Comics and Scene Explorer are more sparsely used. Scene Explorer allows you to select between storyboards, animatics, behind-the-scenes footage and the final cut throughout a full action sequence either as small embedded windows or each vantage point individually at full-screen size. Motion Comics are slightly different than the scene they're attached to in the film but relevant enough to make comparing the two a fun exercise.
Alternate Opening (2:38, HD) – This visually impressive and elaborate opening is set centuries in the past. While it fits the film's themes and is downright cool to look at, it ruins some of the mystique slowly revealed later in the film by telling too much, too early.
Extended Scenes (1:58) – A couple short extensions of "training" sequences including a conclusion to the Grandma on the meat hook scenario that felt cut off in the theatrical cut
Cast and Characters (19:59, HD) – Think cheesy drum machine in the background as the cast each explain what the movie is about while clips from the film are interspersed. It is an elongated expression of the painfully obvious.
Stunts on the L Train (2:30, HD) – This short featurette confirms fears the cheesy background music will carry throughout the supplemental features. There is neat material here to show the plotting and execution of some sweet stunts performed on the train soundstage.
Special Effects: The Art of the Impossible (8:27, HD) – This piece sees the producers tout Timur's hand in developing the special effects sequences and how they are achieved. More Timur talking and less producers would have been appreciated. It does provide brief glimpses at how some of the more elaborate sequences were accomplished, and Timur's absence here is made up for later on.
Groundbreaking Visual Effects: From Imagination to Execution (8:06, HD) – The previous featurette, Special Effects, focused on the physical effects created on the set. Visual Effects looks into how CGI was used to extend what was filmed. Most of this piece examines the big train crash sequence but it also reveals more subtle uses of CGI such as for rat stand-ins.
The Origins of Wanted: Bringing the Graphic Novel to Life (8:05, HD) – I was most curious to see this featurette after the film to judge how Timur's vision matched the story's roots as created in the graphic novel comics. Some of the scenes were directly influenced by the comics and it is clear a lot of work went into carrying forth the comic's legacy in to a moving medium.
Through the Eyes of Visionary Director Timur Bekmambetov (9:05, HD) – All the previous featurettes tease with Timur making sporadic appearances in the front of the camera. This one finally lets the producers and cast talk about Timur, as well as lets Timur speak for himself.
Wanted: Motion Comics (13:55, HD) – I was pleased with the Origins featurette exposing the comics but this presentation, the same as in U-Control but full-screen, actually plays through 8 pages of the comic's pages in motion with James McAvoy narrating. It is a strange but satisfying marriage of comic and cinema I wouldn't mind seeing on other titles.
The Making of Wanted: The Game (10:01, HD) – Developer GRIN in Barcelona talks about how they worked closely with Timur's vision to ensure the game would follow closely to the film. They were on set watching how the action was being staged so it could be translated into pixels. For a ten minute piece there is oddly little game footage shown.
BD-Live – BD-Live features will not be accessible until the title's December 2 release date.
Easter EggsFive unlockable codes for next year's Wanted: Weapons of Fate videogame are scattered on the disc. You can read about their locations and what they do in this article.
There are two Blu-ray films I was most looking forward to this holiday season. The first, Universal's Wanted, does not disappoint and should be owned by not only Blu-ray adopters, but Playstation 3 owners still toying with the idea of dabbling in Blu-ray. This film in high definition is as must-own as they come for action junkies and fans of film alike.
– Dan Bradley
Click here to secure your copy of Wanted on Blu-ray from Amazon.com.