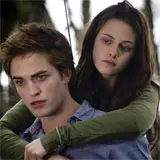 Twilight fans, you'll be ecstatic to learn Summit Entertainment has crafted a Blu-ray Disc package designed for "you." For everyone else, I hope you fancy teen romances with the keen production eye of a television series.
The Twilight phenomenon is built upon an essential coming of age building block: teenage love. For Bella Swan, new and exciting love spawns when she transplants herself to Washington from Arizona after her mother meets a new man and goes with him to chase his baseball dreams in Florida. In a new town nothing like what she is accustomed to, Bella is immediately drawn to the mysterious high school hunk i.e. vampire Edward who no one at the school, except for Edward's equally pasty "brothers and sisters," dare approach.
Without its vampires Twilight would be unmistakable from countless other teen romance tales. Guy loves girl. Girl loves guy. They stare at each other endlessly and can't stand to be away from each other for a fleeting moment. Bust out the Kleenex. With the Supernatural twist Twilight inches away from the mold. Girl still loves guy, but guy loves girl as much as he wants to snack on her with his fangs. Edward comes close on several occasions but always has just enough restraint to turn his motives for would-be meal Bella into a passionate show of affection.
Edward is not only dangerous to Bella because of his "hunger" but the attraction of nomadic vampires. By being in Edward and his family's presence, Bella is constantly at risk for harm or even death should her tasty human scent be picked up. The television show Roswell explored similar forbidden love between a teenage girl and her unusually talented and ultimately otherworldly savoir from certain death. In each instance, the girl brushes away fear and is willing to pay the ultimate price of life for her "special" man. This noble trait make them strong and interesting characters, ones we want to see prevail.
Like Roswell, Twilight may have been better off working as a television series rather than a feature film. The simplistic narrative and lack of mystery or suspense as the story progresses is a surefire turnoff for newcomers expecting to witness a major motion picture event. For example the Cullen family kids, anchored by blond-haired noble father Dr. Carlisle (Tom Cruise look-a-like Peter Facinelli), stick out like a sore thumb at school with their pasty skin, bright lips, poofy gel-laced hair, inter-family relationships and group absence from school whenever the sun shines. Their teenage classmates could be considered credulous in not putting two-and-two together, but I was able to pick out who resembles a bloodsucker and who might turn furry under the full moon the second they first appear on screen. Wisdom garnered from centuries of immortality isn't required to deduce the central conflict or its rather silly resolution that could have come from any episode of Buffy the Vampire Slayer.
Behind overly dynamic camera direction and editing, an almost horrific choice of in-film music aside from the main score and heaps of predictability, there is a freshness and uniqueness Twilight's previously almost unknown cast brings to the table that carves its own niche in the vampire genre. It is impossible to love Twilight's film adaptation as is with its flaws and television-style production, but equally impossible to not want to see the overarching story through to its conclusion.
Summit's well-rounded Blu-ray package for Twilight begins with a slick slipcover sleeve and ends with a varied selection of bonus features, some of which are presented in high definition. In-between is the feature film presented in its original 2.4:1 aspect ratio with AVC MPEG-4 encoding at 1080p resolution. The transfer performs remarkably well considering the high degree of filtering and color-timing tinkering employed to achieve the washed-out gray and blue color palette that persists throughout most of the film. Underneath all the processing and filtering, Twilight's image remains crisp, detailed and natural looking – even more so when the story switches to Arizona in the third act to remind viewers there is sun in this world.
Strong visuals unfortunately aren't backed up by equally impacting audio. While Summit went the extra mile to offer lossless 5.1 48kHz/24-bit DTS-HD Master Audio, it is hardly given the opportunity to offer anything substantial. Aside from the crackling of thunder and bat on ball at the vampire baseball game and the finale, the mix is relatively flat and uneventful save for the abysmal selection of teen angst and "emotional" songs Twilight would have been better off without. The whole aural experience only reinforces the similarities with the TV drama Roswell rather than setting itself apart as a feature film.
The numerous bonus features are led by the Blu-ray exclusive PiP feature The Adventure Begins: The Journey From Page to Screen (54:29, 1080i HD). There are seven total segments in this piece full of back patting and happy stories from the set in this mostly fluffy piece, but Twilight fans will get a kick out of all the behind-the-scenes footage. In a nice gesture more studios should follow, Summit offers the entire feature as a standalone piece for owners who do not own a Profile 1.1 or higher compliant Blu-ray Disc player.
Feature-Length Audio Commentary: Director Hardwicke and lead stars Kristen Stewart and Robert Pattinson offer a jovial commentary in which Hardwicke is the only one who manages to speak with a straight face. Stewart and Pattinson swap names during introductions to make it known early on that they are there to have fun. Considering the film's audience and all the stuffy commentaries out there, it is refreshing to come across a less serious approach.
I specifically wanted to see if Hardwicke would mention revamped vampire "sparkle" effects for Blu-ray Disc in the commentary as she had hinted at after Twilight was released theatrically. Unfortunately she does not, but a producer states ILM was hired for the final "sparkle" effects during the PiP feature. Regardless of any improvements for Blu-ray, the effects still need a lot of work.
Deleted Scenes (5:54, 1080i HD) –Hardwicke introduces five brief deleted scenes, two of which feature heavy smooching and will make teenage girls feint. I almost suspect these extremely brief scenes were held back to entice home video sales as there is no reason they should have been removed from the film.
Extended Scenes (9:36, 1080i HD) – Hardwicke loves a lot of these scenes yet found them necessary to chop. I would argue some of the cut dialogue better explains character motivations rather than improve the film with their removal. She is clearly speaking to the fans by overstating how all these scenes are being made available because "you love them" i.e. referencing their appearance in the book.
Comic-Con Phenomenon (7:58) – Over 6,000 rabid fans packed a hall at the 2008 San Diego Comic-Con screaming as if Brad Pitt were stripping on stage. This feature shows the highlights from the presentation and will probably scare off future youngsters from wanting to brave a Comic-Con and its overly enthusiastic attendees.
Music Videos – Videos are offered up for Muse, Paramore and Linkin Park for their songs "Super Massive Black Hole," "Decode," and "Leave Out All the Rest," respectively.
Theatrical Campaign – In this sub-section is a Twilight sneak peek as seen on Penelope DVD; Comic-Con New York Sneak Peek; 2 teaser trailers and the theatrical trailer. BD-Live connectivity is also offered on the disc.
Twilight is no Let the Right One In but it is not as bad as my mind convinced me it should be. Many of my grievances are aimed at the direction and artistic choices more so the story and themes. Even so, the Blu-ray Disc package is a solid effort from Summit with the only notable letdown coming from an average lossless audio mix. Chalk that one up to poor artistic design as well.
– Dan Bradley