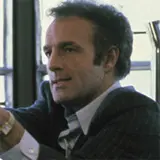 Michael Mann's 1981 theatrical debut Thief tells the tale of Frank (James Caan), a ward of the state as a child and an ex-con as a young adult. Frank now owns two successful businesses in Chicago, an auto dealership and a cocktail lounge. While both are legitimate operations, both serve as fronts for Frank's real occupation: being a professional jewel thief. No nonsense and precise, Frank doesn't deal with cash, bonds, furs or anything else that can be traced, only diamonds. When we meet Frank and his crew, which includes his friend Barry (James Belushi), they are in the middle of a jewel heist that will net them close to $200,000 for a night's work.
Matters get complicated when Joe Gags (Hal Frank), Frank's fence, takes a walk out of a twelfth-story window and the money owed to Frank from the heist goes missing. Barry soon discovers who was responsible for Joe's death, which leads Frank to Leo (Robert Prosky). Leo is an organized crime boss that wants Frank to come work for him, offering him big scores, protection and a somewhat secure future via investments into legit operations such as shopping malls. Frank, however, has no interest in any of this. He values his independence, being his own boss and keeping his cut of the profits in his own pocket. He does not value being told what to do and the added exposure working for the mob would bring him and his crew.
Frank initially declines Leo's offer but reconsiders when a relationship with a cashier named Jessie (Tuesday Weld) begins to take flight. With Jessie in his life, Frank comes closer to fulfilling his lifelong dream of having a family and subsequently, a crime-free life. Frank takes Leo up on his offer to pull off one last heist in Los Angeles. The heist is planned and carried off successfully, but what occurs afterwards is something that Frank did not anticipate.
Thanks to Donald Thorin's beautiful cinematography, Mel Bourne's production design and the incredible electronic score from Tangerine Dream, Thief is a film with style and atmosphere to spare. The rain-slicked, neon-lit nighttime streets of Chicago become more than just a location for the events to unfold; it becomes a major character in the film in a way similar to how the Los Angeles of 2019 would be a year later in Ridley Scott's Blade Runner, albeit a little less flashy and futuristic.
Yet for all the technical brilliance at work in Thief, the movie never loses sight of what really matters: its story and character. Michael Mann is a filmmaker who researches his projects extensively prior to shooting. For Thief, Mann consulted with real-life jewel thieves (he even cast one as a cop), police detectives and convicts in order to get even the smallest detail accurate (the tools Frank uses to break into safes? They're the real deal). Knowing his subject inside and out not only helped Thief set itself apart from the other crime thrillers of the era, giving the characters depth and making the story all the more involving, tense and emotional.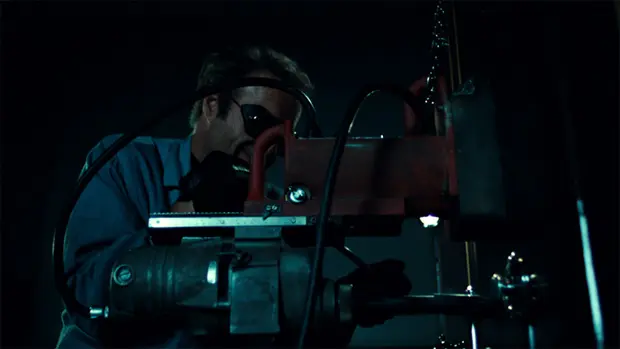 If attention to details is one of Mann's signature trademarks, then his expert handling of actors would be another. Without the right actors in place, in particular Caan, much of Thief's emotional impact would have been diminished greatly. Casting the Hollywood tough guy was a stroke of genius. I couldn't imagine anyone but Caan playing Frank, and while I'm a huge fan of his work in The Godfather (who isn't?), Thief was by far his finest hour as an actor.
It took a certain actor to carry off the intensity and emotional fragility that Frank carries inside him at all times, but Caan does it and does it extremely well. The scene in which Frank brings Jessie – and the audience – up to speed on who he is and how he got there is Oscar-worthy. It's a wonderfully layered performance that is backed by strong supporting turns from Weld, Prosky, Tom Signorelli (as Leo's right-hand man) and Willie Nelson as Okla, the man who taught Frank everything he knows about being a professional thief.
With few exceptions, Michael Mann's filmmaking career thus far has been pretty damn impressive. Yet despite accomplished works such as The Insider, Manhunter and Heat, a film that shares many similarities to Thief, nothing has topped his debut. Thief is a fascinating character study wrapped in the body of an intense, exciting crime thriller. It's not just one of the best American crime films of the 1980s; it may very well be the best crime movie of that decade.
High-Def Presentation
With a transfer supervised by Michael Mann and released by Criterion, it should come as no surprise that the Blu-ray of Thief looks and sounds fantastic. The 1080p AVC-encoded transfer beautifully handles the metallic blues, rain-soaked neon city streets and handful of daytime scenes. The print is free of any sort of damage, grain is intact, black levels are nice and deep and picture detail is excellent. The 5.1 DTS HD-MA audio perfectly conveys the Tangerine Dream score, center-channel dialogue and occasional subtle surround effects. This is yet another first-rate Criterion presentation.
Beyond the Feature
There aren't a huge amount of extras to be found on the Criterion Collection Blu-ray and DVD combo edition of Thief, but what is here is solid. Per the norm for Criterion, all the video-based supplements are presented in high-definition.
Audio Commentary with Michael Mann and James Caan: Recorded in 1995 for the MGM Laserdisc (remember those?) and also included on the film's original DVD release, Mann and Caan sit down to talk about the film.
Truth-Telling Style: Michael Mann on Thief (24:18): Interviewed in 2013 by Variety critic Scott Foundas, Mann talks at length about the origins and production of the film, including Donald Thorin's shooting style, choosing Tangerine Dream over a blues soundtrack and how the movie is a modernist picture because of the story and not the style.
Making Something Real: James Caan on Thief (10:40): An all too brief 2013 interview with the star of Thief, Caan reminisces on how the film came together, the training he went through and working with Mann. He closes out his interview with a rather amusing anecdote involving his late sister and the safe she had in her home.
The Otherness of Sound: The Tangerine Dream Soundtrack (15:40): One of the members of Tangerine Dream, Johannes Schmoelling discusses working with Mann, how the soundtrack came to be and how the group couldn't come up with the right music to accompany the film's conclusion. Given how effective Craig Safan's Confrontation is during the final shootout (the scene still knocks me out even after 33 years), I am so glad Tangerine Dream didn't score the ending.
Theatrical Trailer (1: 53): The film's original theatrical trailer
Thief is a film that ranks in the upper echelon of American crime features. It's slick, smart and engrossing from start to finish, a movie that unlike its protagonist never makes a wrong move or takes a false step. Criterion's Blu-ray edition is as spit and polished as the diamonds Frank steals, complete with a great transfer and informative extras. If you are a fan of the film, chances are you already own this disc. If you haven't seen it yet and have admired Mann and Caan's other works, don't rent the disc. Just go out and buy it. Trust me; it's the best blind buy you will make this year.
Shop for Thief Criterion Collection on Blu-ray and DVD combo for a discounted price at Amazon.com (January 14, 2014 release date).