The Strain Pilot 'Night Zero' Review: FX Opens a Deadly Box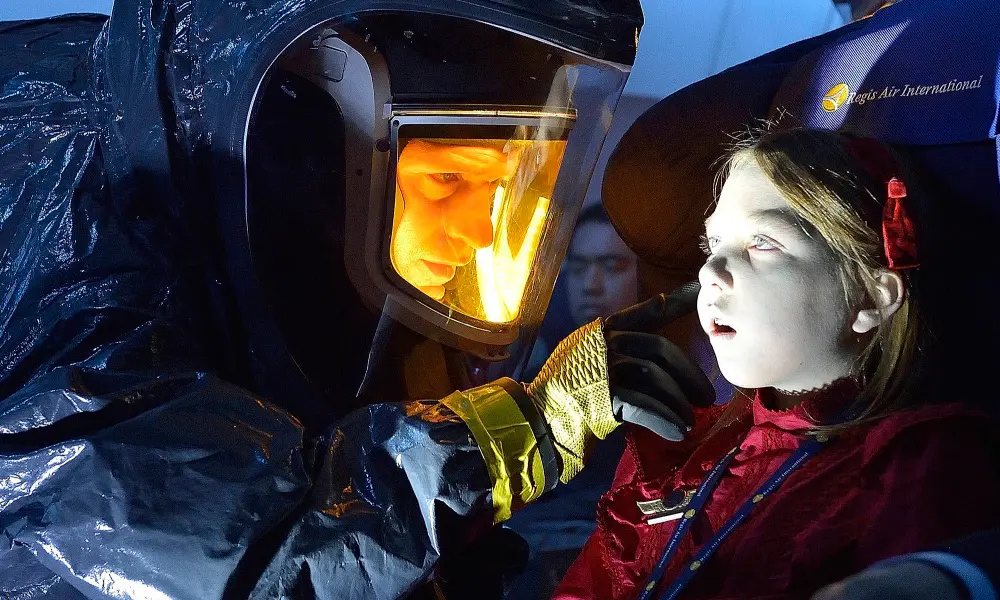 I have always been fascinated by Guillermo del Toro's filmmaking prowess, especially his foreign language endeavors and own creations such as the brilliantly dark and twisted Pan's Labyrinth. I also enjoy the two Hellboy films that are del Toro's interpretation of another well established property, but he's at his best when his mind creates its own worlds and lets them flourish in the most unexpected and sometimes macabre ways — as is the case with his new FX series, The Strain.
It's fitting that the highest profile vampire drama series on TV, HBO's True Blood, is playing out its final season as FX gives birth to the summer thriller, The Strain. Declining ratings prove that audiences are tiring of vampire romances, glittering skin and laughable campy sex for the sake of fueling social media drivel. Creators Guillermo del Toro and Chuck Hogan, who developed The Strain for FX off a book series of the same name that they penned, will have none of that nonsense in their show, a point punctuated in a pilot that uses the song Sweet Caroline in a way that might change the first thing Bostonians think of the next time they hear it at Fenway Park.
Hogan and del Toro, along with executive producer Carlton Cuse (Lost, Bates Motel) put their own spin on the tired vampire genre by relating the spread of vampirism to an examination of epidemiology. The initial outbreak or "coming out party" presented in The Strain pilot 'Night Zero' is investigated as a potential deadly pathogen after an airplane goes dark on the runaway at JFK airport and an undocumented large box is found in the cargo hold. This angle generates a sense of mystery and subsequently discovery as the CDC investigates the bodies and uncovers numerous oddities with the victims and airplane cabin that simply cannot be explained by any rational thinking.
Guillermo del Toro's hands are all over the designs of these modern vampires and the ominous look of the pilot, which he stepped up and directed for FX to help launch the series. Forget shiny, pointy teeth and pale skin; The Strain introduces an ancient creature that is as horrifying in its appearance as its actions. Guillermo del Toro presents this creature as virtually unstoppable, adding more intrigue into  how it could possibly be stopped.
One confrontation between the creature an an airport worker crosses the line into generating pure shock value entertainment, a trend that will continue through at least the first several episodes of the season. The show would have no business airing on FX if it wasn't willing to push the envelope, and del Toro ensures that it most certainly does.
The Strain narrative architecture follows numerous characters as they react in different ways to the plane incident. Corey Stoll (House of Cards) is the central hero, a controlling CDC doctor who shuns his separated wife and son for the obsession of his job. While he takes a scientific approach to solving and containing  the plane outbreak, Abraham Setrakian (David Bradley, Walder Frey in HBO's Game of Thrones) knows what's really happening and makes an unwise attempt to alert others at the expense of tarnishing his own image.
When The Strain spends time investigating the plane, its passengers and those "I won't spoil" folks pulling the strings is when the show captivates. However, Hogan and del Toro seem insistent on developing the ins and outs of Stoll's character, spending far too much time on mundane scenes involving a custody battle with his ex-wife for their son that feel like stepping in quick sand after sprinting down the track.
FX has already found success in the horror genre with several seasons of American Horror Story. Guillermo del Toro and Chuck Hogan's The Strain is a different beast altogether; more tame, for certain, but also more structured and grounded in a modern world. It isn't polished or perfect — I'm looking at you, illogical circumstances of the closing scene — but does give the vampire genre a much-needed boost of creativity, twisted thinking and untapped potential to keep me fixated on what lurks in the box.
The Strain series premiere, 'Night Zero,' debuts Sunday, July 13 at 10/9c on FX.
TheHDRoom may be paid a small commission for any services or products ordered through select links on this page.