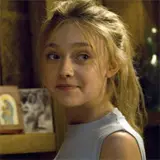 The Secret Life of Bees is an emotionally driven story set in South Carolina during the sixties, a time of change and the advent of the civil rights act. The collaborative efforts of director Gina Prince-Bltythewood and producers Lauren Shuler Donner, James Lassiter, Will Smith, Joe Pichirallo and Jada Pinkett Smith truly bring an amazing film to life that stays true to the book of the same name written by Sue Monk Kidd.
The story centers on Lily (Dakota Fanning), confused and guilt stricken over the misfortunate events of her early childhood as she is in the midst of her coming of age. She uses her caretaker Rosaleen (Jennifer Hudson), who has been beaten by a group of men, as a excuse to leave town while hiding the fact that she is really running from her past and wants to leave her abusive father to set a new life guided only by the name of a city on the back of a picture depicting her mother.
The quest these two embark on bring them into the haven of the matriarchal beekeeper August Boatwright (Queen Latifah) and her two sisters June (Alicia Keys) and May (Sophie Okonedo). Now under the wing of August, Lily and Rosaleen experience a new well to do life where they can start over again, secluded from the outside divided world of America at that time. However, racial tension and divide are brought up to parallel the strife that the characters have to overcome as their pasts and current circumstances are explored, but it is not so heavy handed as to overshadow the flow of the story and development of the characters. Though there is some violence, it is not overtly exploited.
Other more subtle parallels are brought into play as the life of the beekeeper is explored. Metaphors are abound between the unique nature of bees and the relationship they have with their queen, much like August looks after all the people within the embrace of the household filled with a community that have an uncommon bond with one another. This point is played out further by virtue the fact that bee colonies live out secret lives so enigmatic in nature that the colony, and respectively the household, have secrets all to themselves only to be unraveled upon more intimate scrutiny.
Queen Latifah perfectly portrays the wise and maternal role that puts one's heart at ease and Dakota Fanning is definitely honing in her skills as an accomplished actress. Jennifer Hudson's dead-pan humor, Sophie Okonedo's quirky behavior and Alicia Keys' serious demeanor all help to further supplement a beautiful collage of characters. Even the supporting male roles played by Tristan Wilds and Nate Parker were something to be cherished and really helped to fulfill the females leads and though Paul Bettany plays Lily's abusive father, he is someone you want to care for.
The Secret Life of Bees is without a doubt one of the best movies this year. There are some very somber moments but an equal number of uplifting ones as well which all lend themselves to bring perfect closure to all the characters and works to develop a strong sense of hope to this wonderfully beautiful movie. Additionally, the cinematic look of the film is very warm and score really helps to achieve that feel even further. In a time so politically charged, it is good to see a movie that educates the next generation on how far we've come with civil rights and the promise of hope our future has for all.
– Chris Walsh