The Drop Review: A Tense Throwback To Crime Films of the Past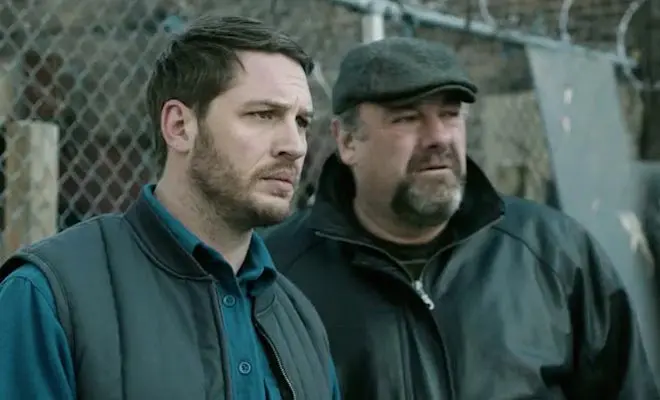 Dennis Lehane is no stranger to taut, gripping crime-styled storytelling. He wrote the books that the films Mystic River, Shutter Island, and Gone, Baby, Gone were based on. In the new film, The Drop, Lehane tackles writing a screenplay, based on a short story he wrote called Animal Rescue and the results are nothing less than powerful.
The Drop centers around a bartender named Bob (Tom Hardy), who pushes drinks at a seedy Brooklyn bar called Cousin Marv's. Bob is a loner, who exists solely to pour drinks and go to Catholic Mass–though he never takes communion. One night, Bob stumbles across a pit bull pup in a garbage can that has been severely abused and he saves the poor animal. The owner of the garbage can is a single waitress named Nadia (Noomi Rapace), who helps Bob fix up the animal and then she forces him to take pup. Now Bob is no longer alone, and his love for the dog–which he names Rocco, after a Saint–begins to blossom, pulling Bob out of his self-imposed loneliness.
Cousin Marv's is ran by an actual Marv, played by the late James Gandolfini, in his last film role. Marv used to run numbers and got into trouble with some Chechens and was forced to sell his bar. The Chechens now use his place as a "drop bar," where large amounts of dirty cash is transferred between parties in the New York Crime underworld. Marv is forced to work at the bar he no longer owns, kissing the hand of the men who forced it from him. This makes him bitter at losing his slice of the American dream–legit or otherwise, and his once bright criminal future has been replaced by living with his sister (Ann Dowd) and arguing about keeping their father alive on life support, even though neither can afford it any longer. All of this conflict boils in Marv to the point that he is ready to lash out, and only Bob and his simple existence can seemingly keep him in check.
The last major player in The Drop is Eric Deeds (Matthias Schoenaerts), a troubled, nay-insane guy from the neighborhood who publicly admits he killed a man and who terrorizes Nadia–up to and including leaving a beaten, bloody dog in her garbage can. When Deeds comes back for the dog, Bob is forced to react to not only deal with Deeds, but to remain the balance to Marv and to pursue his budding romance with Nadia. It is this conflict that fuels the second and third acts, propelling them to magnificent storytelling about the human condition and how the life of crime is still some kind of life.
The Drop features some very compelling performances, particularly from Hardy as Bob. Lehane moved the story from a Boston suburb to a New York Borough, and Hardy's accent, at first, seems to bubble between the two. It wasn't until a third into the movie that I realized his accent was all characterization and Hardy really began to shine in the role. There is darkness in his eyes and Rocco, the gorgeous pit bull pup starts to bring Bob back into the world of living.
Gandolfini makes Marv work in The Drop, but the role borders too much on characters that Gandolfini has played previously. It's when Marv talks about the old days, when he used to be somebody that the audience truly begins to feel for him, and this is where Gandolfini takes the character to a new place. It doesn't happen often, and arguably enough in this film, but when it does, the payoff is worth it.
Rapace's Nadia is a little underdeveloped, which happens more often than not in crime drama, which is sad because Rapace is such a capable actress. Matthias Schoenaerts' portrayal of Eric Deeds is a stand out here. Written simply to be the stick that stirs the mud, Schoenaerts transcends the writing and gives Deeds edges and shadows that constantly make the audience wonder what we are seeing.
Michael R. Roskam, whose only other feature-length film was Bullhead (which also starred Schoenaerts) flexes some storytelling muscle here. Roskam gives The Drop a throwback feel to the crime dramas that defined 1970s movie houses. His frenetic blocking and the way he creates tension so effortlessly puts him on my list of auteurs to watch out for.
The Drop is a tense, well thought-out American crime tale, punctuated by stellar performances by Hardy and Schoenaerts, and supported by Rapace and Gandolfini. It's a slow burn tale with an explosive ending that forces the audience to decide to either cheer or be afraid. I actually felt a little of both. Lastly, I expected to watch Gandolfini's last performance with a touch of sadness, but was quickly invested into what Marv was all about, and that is the final card of an acting career well played. You will be missed, sir.
The Drop is rated R and opens nationwide on September 12
TheHDRoom may be paid a small commission for any services or products ordered through select links on this page.