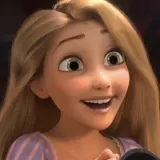 Tangled is Disney's clever twist on the story of Rapunzel that mixes classic, timeless themes with modern humor and animation panache. By its very name, Tangled aims for a broader audience than a film named Rapunzel would, and mostly hits the mark with a sharpened arrow for families of all sizes and ages.
Mandy Moore voices Rapunzel, a beautiful young girl with insanely long hair who embarks on a coming of age journey, a first step away from the confines of the tower she's been conditioned by her presumed mother to call home. Through sheer determination and with a little help from a friend, she predictably and appropriately discovers who she really is and her rightful place in the world.
Tangled's twist is hinted at in its own name. As much as Tangled is about Rapunzel's self-discovery in a larger world, it is about her reluctant prisoner/friend and source of many laughs, swashbuckling thief Flynn Rider (Zachary Levi). Their destinies are "tangled," for lack of a better word, meeting each other as confused and incomplete people and ending the film self respecting and honest.
Moore and Levi are great in their roles, but honorable mention goes to Donna Murphy for her voice performance as Mother Gothel, the woman who raises Rapunzel after kidnapping her shortly after birth. Murphy's task is no easy one, to portray a villain whose only hold over Rapunzel is not powered by magic or some wicked spell. She must convince Rapunzel with false love and continually combat the girl's growing desire to flee the nest and explore what lies beyond the woods. Murphy's spot-on voice work makes Mother Gothel's magic-less spell over Rapunzel completely convincing.
While Tangled is a great family film it does come with a caveat. Mother Gothel's wrath in the final act is a little violent for the younger kiddies. There is blood, and there is death. It's no worse than The Princess and the Frog's spooky voodoo scenes, but something to keep in mind if playing for the 6 and under crowd.
3D Presentation
Disney's 3D treatment of Tangled on Blu-ray is another bar raiser for all the right reasons. Unlike some films that are laid out and designed to use 3D as an "in your face" gimmick, Tangled is completely devoid of any such trickery. There's a beautifully rendered depth consistent throughout the film that actually makes you forget you're wearing glasses and completely immerses you in the story. I spotted a handful of ghosting instances early on, but otherwise Tangled is 3D done right and a Blu-ray 3D title anyone with the complete 3D hardware setup should move into their want list.
Even as a 2D film, Tangled looks absolutely amazing on Blu-ray with a dizzying color palette that touches enough colors to make Crayola jealous. It's easy to get lost fixating on Rapunzel's mane, Flynn's perfectly groomed hair or Mother Gothel's voluminous, curly and bouncy perm hairdo. The hair animation is on a level never seen before and perfectly rendered in 1080p video.
As with most of their high profile new releases, Disney presented Tangled's Blu-ray audio in 7.1 DTS-HD Master Audio. It's an impressive presentation that balances dialogue, effects and music effectively. Not once did one aspect of the audio jump out as overpowering another. I didn't find the few songs memorable, but that's not a knock on the audio mix. The only real fault, and it's minor, is the bass extension didn't reach quite as far as it could during a couple big action sequences.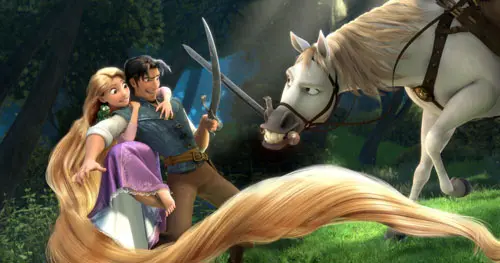 Beyond the Feature
Tangled's Blu-ray 3D slipcover is quite striking and one of the most attractive you're likely to see on any Blu-ray release. The lenticular movie key art is surrounded by a chrome effect for a one-two eye popping punch. This is the type of Blu-ray cover that deserves to sit on the top of the stack or end of the row.
The bonus features, unfortunately, are a bit of a letdown in both quality and quantity. Past Disney princess-themed films on Blu-ray have received a much more robust offering of extras. Tangled's collection of supplements pale in comparison, even though this Blu-ray 3D package does include the Blu-ray 2D, DVD and digital copy versions.
Deleted Scenes (12:36) – A trio of deleted scenes span over 12 minutes, far longer than most cut scenes run. Given the cost to fully animate CGI it should come as no surprise that they never went beyond the storyboard phase. If you can't stand watching storyboards then give these cut scenes a pass.
Original Storybook Openings – Tangled's opening was originally designed as a storybook opening like you've seen in countless fairytale films before. Two versions of this idea were fully executed, both presented as moving storyboards.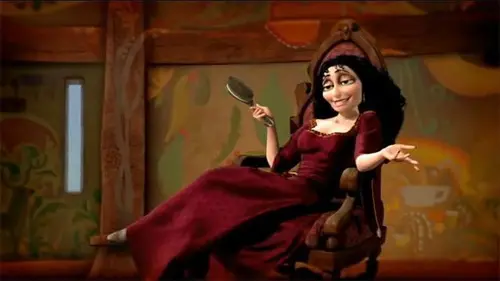 50th Animated Feature Countdown (2:03) – Did you know Tangled is Disney's 50th animated feature? Get to know the other 49 in chronological order via this brisk montage of brief clips. Beware if you aren't up on your Disney film knowledge as film names are noticeably absent on the clips.
Untangled: The Making of a Fairytale (12:28) – Mandy Moore and Zachary Levi obnoxiously retrace Disney's past films and spew bad jokes for several minutes before they even get to talking about Tangled. When they finally take a backseat to the real making-of material, you'll get the real goods, even if they're really isn't much worth mentioning.
Also included are a pair of Extended Songs 'When Will My Life Begin' and 'Mother Knows Best,' and 9 Tangled Promotional Teasers that mix real world spoof ads with Tangled's character and story.
Tangled is a fantastic updating of Rapunzel's story with a modern twist. What the Blu-ray 3D version lacks in supplements is made up with in a near-perfect presentation, especially the 3D effort which is one of the best and most consistent to reach the format yet. If you have a Blu-ray 3D setup then by all means, go that extra dimension route with Tangled.
– Dan Bradley
Buy Tangled on Blu-ray 3D for a discounted price at Amazon.com.