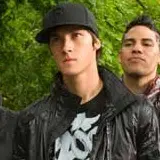 The Step Up formula of young dancers overcoming seemingly insurmountable odds to achieve their goals glides into 3D with Step Up 3D, the third entry in the ongoing profitable dance series from Disney. Its lazy script would sink any other film after the opening act, but the high energy dancing combined with 3D provide a few neat moments in an otherwise amateurish filmmaking effort.
The irony of Step Up 3D's silly story is that the main character, Luke, is an aspiring filmmaker who maintains a singular emotion and facial expression through the entire film. Whatever skills Luke's character may possess are lost somewhere between dancing on a college campus and dancing in a broken sprinkler. There's a young engineering student named Moose who is an incredible dancer with a bad hairdo, but his parents don't want him to bust a move. He has a female friend who is initially presented as his sister, but by the film's conclusion he shares the most untimely kiss imaginable with her.
The other "couple," Luke and Natalie, are caught up in the main plot. Luke has inherited a large warehouse where he takes in homeless and unwanted dancers to train and live as the House of Pirates dance crew. He's 5 months behind on rent and needs to win a big dance competition to keep from being evicted. He never seems concerned with paying rent going forward should he and his brood be allowed to stay. Chasing his dream as the film comes to a close doesn't exactly leave the other dancers in the best scenario.
If you're watching Step Up 3D then you've come for the dancing and hip-hop tunes, not the storytelling. There's plenty of amazing body-bending moves, including some almost creepy robot gyrations, though to the untrained dancing eye (re: me) some of the break-dancing becomes redundant after awhile despite some tight choreography and fluid camera work. The best moves are the most intimate when Moose is confronted by members of a rival dance gang in the film's opening and later that day in the warehouse. His main opponent is by far the best dancer in the film and he should have gotten more emphasis in the bigger dance routines later on.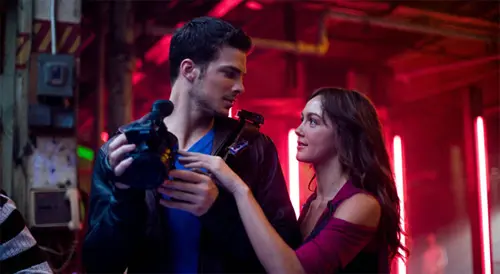 3D Presentation
Step Up 3D was made with 3D in mind so there are many instances where scenes were framed to have objects or people pushing up against the camera. Sometimes this works exceptionally well such as when a dancer grooves with their arms outstretched towards the viewer. There are a handful of these moments and each is equally neat.
In other instances the 3D steps into gimmick territory. One scene in particular has Luke and Natalie playing atop an air conditioning vent framed with the New York skyline behind it. They get goofy on the vent and let the forced air blow their slushy drink up into the camera. It makes for bad CGI and bad forced 3D.
Overall the Blu-ray 3D presentation for Step Up 3D is quite sharp despite some scenes appearing to have more depth to the image than others. Those with the most depth are so pronounced in 3D that it almost looks as if various elements in a scene were pasted on. The various recognizable locations throughout New York City look better than ever, almost as if director Jon Chu was crafting a personal love letter to the city.
Disney has gone all out on the audio side with 7.1 DTS-HD Master Audio, befitting a film where some variety of hip-hop music is blasting the majority of the time. It's an excellent mix full of all-important bass that will make your chest shake at the right listening level. Though the bass can be overwhelming at times, surrounds are active and dialogue remains consistently clear.
Beyond the Feature
Step Up 3D on Blu-ray 3D is a combo pack that also includes the 2D Blu-ray, DVD and digital copy. There are no bonus features on the 3D disc; however, the 2D Blu-ray disc has a handful of high definition extras for the franchise fans who want to see a little more.
Luke's Born from a Boombox: A Luke Katcher Film movie-within-a-movie full of interview snippets and some dancing is presented in its 12-minute entirety. Jon Chu offers up optional commentary on roughly 20 minutes worth of 8 Deleted Scenes, while additional dancing footage is provided in Extra Moves, running around 7 minutes long. You can't have music without videos so there are about 30 minutes worth of Music Videos accompanied by a 7-minute Making-Of the Music Videos featurette.
I am confidently not the target audience for Step Up 3D so I approached it mostly with an eye for the Blu-ray 3D presentation. If you're in the same boat then grab a paddle and give it a look. You might be pleasantly surprised at how well energetic dance and 3D mesh. Otherwise Step Up 3D should be approached with great caution and at least a marginal interest in hip-hop music and dance.
– Dan Bradley
Shop for Step Up 3D on Blu-ray 3D for a discounted price at Amazon.com.