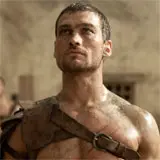 Already attracting much attention for its graphic depictions of sex and violence, new action drama Spartacus: Blood and Sand starts tonight on Starz with a blood-soaked season premiere.
Starz is so certain that the series will be a success that they have already taken the highly unusual step of renewing it for a second season before a single episode has aired. Based on the four episodes I have seen I think they may have jumped the gun as the series, while quite entertaining, will clearly not be for everyone.
The show's premise concerns a Thracian warrior who will become Spartacus (Andy Whitfield), the leader of a famous slave uprising. Betrayed by a supposed ally, Spartacus and his wife are separated and he is taken as a prisoner of war to fight for his life in the arena while trying to determine what happened to his wife.
The relatively unknown Whitfield makes for a serviceable lead, not only handling the role's many action sequences well but also doing a good job of establishing his character and making us care for his plight.
However the most striking element thus far is the in-your-face graphic violence drawn heavily on the visual style established by Zack Snyder's movie 300. Here we have the same slowed-down weapon penetrations followed by outrageous spurts of blood and body tissue which almost freeze in mid-air before splattering down. Where it differs however is that while Snyder used this as an impressionistic technique to make you think you'd seen more than you actually had, Spartacus has no compunction about shooting the action straight-on in gruesome detail.
Limbs are chopped off, heads smashed and in one particularly stomach-turning moment a dead man's face is cut off with a tiny knife and worn as a mask. Spartacus is definitely not a show for the faint of heart.
These fight sequences, while pushing the boundaries of taste in the way they are filmed, are more than just bloody interludes. Instead they actually drive Spartacus' story forward, testing not only his physical strength but also his adaptability and strength of character.
In addition to its considerable amounts of violence, the show also boasts substantial sexual content with lots of male and female full frontal nudity and simulated sex. Unlike the violence however there is little here that hasn't been seen on some cable channel before. A handy comparison for explicitness would be HBO's 'Rome'. For the most part the sex scenes illustrate who the characters are and their relationships to one another to avoid feeling purely exploitative. Less of a defense can be mounted for much of the Caligula-type nudity seen in the background.
In any case, fortunately there is more to Spartacus than just its sex and gore. At its heart the show is about a man's relationship with his wife. It is about who he is prepared to become and what he will do to find her and secure her freedom from slavery. Political and business maneuvering, personal relationships and discussion of free will are also significant elements.
In fact I found that the most intriguing aspect of these early episodes is not the action in the arena or in bed. Rather it is the relationship between Spartacus' owners, the cash-strapped Batiatus (John Hannah, The Mummy) and his wife Lucretia (Lucy Lawless, Xena: Warrior Princess).
Their relationship intrigues because much remains unspoken. Their marriage is still passionate yet Lucretia is also secretly sleeping with a gladiator. We know that they have been unable to have children together and wonder what sort of a toll this has taken on their relationship. We also see that Lucretia does not trust her husband's business acumen and is prepared to act independently of him to try to secure their financial security and place in high society.
Of course it helps that these two roles have been so well cast. John Hannah manages to convey his character's sense of weariness and frustration at their economic problems yet retains a sense of ambition and drive, even when things look bleak. When given the opportunity to play a lighter moment he exhibits great comic timing.
He shares a good chemistry with Lucy Lawless whose character Lucretia seems strong-willed, very passionate and just as ambitious as her husband. Within the first few episodes she has already begun to plot and scheme how to raise their stock in society by striking a friendship with a senator's daughter (Viva Bianca) and we are left with the sense that there may be more scheming to come.
The biggest element missing in these first four episodes is a truly compelling villain. Though Legatus Glaber (Craig Parker, Legend of the Seeker) is an interesting character and well played, he is more of a weasel than a significant force. Hopefully later episodes will either introduce one or start to build Lucretia up as an obstacle to Spartacus' freedom.
Based on these first four episodes, Spartacus is a show with some potential but that is likely to be a very acquired taste thanks to its provocative mix of sex and graphic violence. Those considering trying the show should know that it really only establishes its sense of style and storytelling rhythm from its second episode onwards. This is a show that gets better as it goes on.
While not all of the elements are in place at this point, Spartacus is a show with some promise. It is not as elegant as I, Claudius or as gripping as Rome, but it is a competent action drama that benefits from great casting for its leads. For those willing to endure the buckets of blood, Spartacus is worth a look.
– Aidan Brack
Spartacus premieres tonight at 10 PM ET/PT on the Starz network.