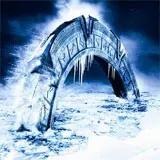 After 14 strong years and counting the Stargate franchise lives on in Continuum, the second feature-length Stargate film produced after SG-1 was shut down following its tenth season. Like the original Stargate film and early episodes of SG-1 before it, Continuum relies on throwing a small team of operatives into a sticky situation complimented by exotic on-location shoots enhanced with 1080p video on Blu-ray Disc.
Ark of Truth, the first direct-to-video Stargate film, tied the strings on an unresolved conflict with Adria from the SG-1 series. It was designed more as an extension of the television show and not a standalone film which alienated audiences not familiar with the Stargate universe or its inhabitants.
Continuum also wraps up a dangling plotline from the SG-1 series involving the fate of the pesky Ba'al clones. Unlike Ark of Truth, the story and characters aren't trapped in a box only Stargate faithful have the key to open. The conflict presented is straightforward, relevant to our times and easy to digest for the most novice Stargate viewers all while placing the original SG-1 team of Colonel Cameron Mitchell (Ben Browder), Colonel Samantha Carter (Amanda Tapping), Teal'c (Christopher Judge), Dr. Daniel Jackson (Michael Shanks), Vala (Claudia Black) and even General Jack O'Neill (Richard Dean Anderson) into a predicament they've never faced before that diehard fans will eat up: what would happen if SG-1 never existed?
The answer is intriguing and revealed through voyages from the actual frigid arctic to alien pyramid-shaped spaceships to the interior of an actual nuclear submarine manned by a real Navy crew. There are plenty of cameos, both expected and unexpected, that will elicit high pitch screams from Stargate fanboys. The late Don S. Davis is one.
While the story is probably strong enough for a theatrical release, some of the sloppy writing and inconsistent visual effects ranging from outstanding to second-rate efforts that feel ripped right off a Sci-Fi channel made-for-TV movie. For example, one main character suffers a crippling injury that never carries any real consequences with it. Why include the injury at all, then? There's also an awkward and unfair one-year jump in time that eats up what could have been the most intriguing character-focused moments of the entire film similar to how the crew of the Enterprise had to assimilate into San Francisco after having traveled back in time.
On the whole Continuum is a decent entry in the SG-1 saga that hopefully won't be the last. There's still a lot of mileage left in these characters and the actors look as if they had a ball returning to the roles that define many of their careers.
MGM Home Entertainment presents Stargate Continuum in widescreen 1.77:1 1080p video encoded with AVC MPEG-4. Any arguments aimed at Fox/MGM after Patton regarding digital noise reduction in no way apply here. The transfer comes across quite the opposite. There's persistent grain and noise throughout regardless of location or environmental variables that carry forth a film-like presentation. The artic scenes in particular suffer from the elements that detract from detail. There are no bright blue skies to provide a perfect frame. Black levels fall somewhere in the mediocre range. Dark scenes don't fall apart with compression issues but don't quite extend as dark as I would have liked.
The 5.1 DTS-HD Master Audio treatment is on par with what's to be expected from a direct-to-video release. Dialogue for the most part is discernable aside from a handful of occasions where the score, effects or both interfere. Surrounds and .LFE aren't utilized or pushed as far as they would in a theatrical production with a beefier budget. This is most apparent in the intense combat sequences that come across flatter than they should.
The extra features on Stargate Continuum are meager listed on paper but pack a lot of punch. Each is presented in standard 480p definition as they are on DVD and there are no Blu-ray exclusives.
Commentary with Executive Producer/Writer Brad Wright and Director Martin Wood: The emphatic duo is so excited to talk about their film that they sound like giddy schoolgirls gossiping about boy crushes. There's not a single break in their track where the film's audio comes into focus, the telltale sign that they're offering the commentary as fans and not for an additional paycheck.
Making of Stargate Continuum (22:35): A well-designed featurette that manages cutting between cast and filmmaker commentary with relevant behind-the-scenes footage beautifully. The gem buried about halfway through is a dissection and fly-on-the-wall perspective of filming the ingenious opening shot.
Stargate Goes to the Artic (21:53): The cast and an abbreviated crew did in fact travel to the artic hinterlands to shoot on-location and utilize the services of a real Navy submarine. I questioned whether a shot in the film involving a submarine breaking through the ice was real or an effect. This featurette answers and explains that question.
Layman's Guide to Time Travel (9:19): Watching this featurette is like sitting through a college lecture as Astrophysicist Jaymie Matthews questions the plausibility of what happens in the film and presents multiple possibilities to help justify some of the creative decisions involving time travel and its consequences.
Stargate Continuum carries forth the tradition of the SG-1 show with otherworldly enemies and locations the first Stargate film 14 years ago failed to deliver. Though the story and scope is theatrical-ready, the budget and fine details are still grounded in the expectations of a television show. Continuum's greatest achievement is appealing to fans and newcomers alike making it a solid rental choice not for its high definition presentation, but for its broad science fiction appeal.
– Dan Bradley
Order Stargate Continuum on Blu-ray Disc at a reduced price from Amazon.com.