Son of Batman Blu-ray Review
A reference to Batman lecturing Robin about using protection during sex and a tortured woman's heaving cleavage are some of the unfortunate standout moments in Son of Batman, the latest DC Entertainment direct-to-video animated feature film that delivers grin enabling action but drops the ball nearly everywhere else.
The idea that Batman has a son was first introduced in Grant Morrison and Andy Kubert's 2006 comic book storyline, Batman and Son. It has promise if properly handled, but is hard to take seriously when the roughly eight-year old Damian, son of Talia al Ghul, hides behind a curtain while his mom in full-on seduction mode reminds Batman that she drugged him with a roofie before the conception. In other words, Batman was date-raped by an assassin and his son was the result.
There's nothing wrong with adding a little edginess to the Dark Knight. But to do so at the expense of common sense and practicality is a narrative sin. Arrows firing from a gatling gun should not make a helicopter explode. Someone ripping their arms through an arrow to free themselves, then fight someone four times their size as if the arms were good as new is unforgiveable.
Son of Batman gets off to an explosive start as Deadpool attacks Ra's al Ghul at his compound. The swordplay during this extended sequence is sharply choreographed and animated, and blood spills copiously as machine guns rip through defenseless ninjas. Unless your last name is al Ghul, in which case machine gun bullets are easily deflected with the swish of a sword.
The premise is that an aged Slade Wilson aka Deadpool wants to take over the League of Assassins and then unleash creatures on the world that are mutations of men and animals. It's a weak plot that feels ripped out of Spider-Man or Teenage Mutant Ninja Turtles, complete with mutagen and a scientist forced to do the bidding of evil or else his family will suffer gravely.
This scientist happens to live in Gotham City, and so does Batman, so by chance Talia delivers young Damien to his superhero father for protection. Whereas the talented young lad is all business and talks down to his superiors, his introduction kicks off a tonal shift into comedy as the silliness of Batman's monotone voice in all situations and Alfred's dry humor kicks into gear.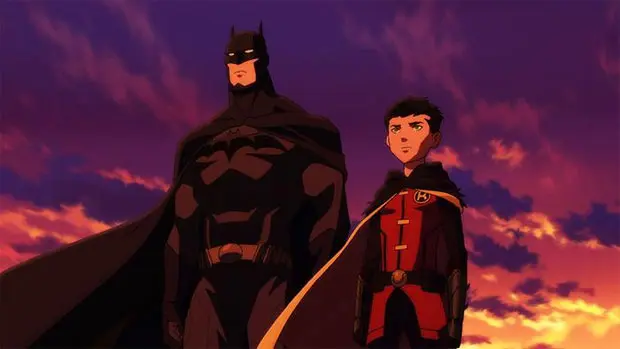 If the intention was for
Son of Batman
to be intermittently funny then it was a rousing success. The reality is that it tries too hard to emphasize violence, as there are countless impalements and deaths, and sexuality, as Talia's breasts are bigger than her head and she is otherwise severely underdeveloped. Strip out these elements and it's a pedestrian tale that defies logic and completely wastes a mature Nightwing by choosing to push his only brush with combat off-camera.
High-Def Presentation
The animation style in Son of Batman veers toward anime with hard lines and few details. It would have been an easy transfer to Blu-ray and should have been a beautiful picture; however, that is most certainly not the case. There is a copious amount of banding throughout the film that reeks of low production values. I get the impression that there wasn't time or money to clean up the banding at the source material, so the Blu-ray transfer merely carries it over. It's a shame, too, as the colors can be quite vibrant and the visual style does work for the film.
This feeling of cheapness carries over into the audio mix that isn't as enveloping as the action on-screen mandates it should be. The 5.1 DTS-HD Master Audio track does pump up the bass and dip into the surrounds on occasion, but it is an uneven experience that falls flat, much like almost all of the voice work in the film.
Beyond the Feature
The majority of bonus features on Son of Batman have nothing to do with the film, which I don't take as a ringing endorsement. A behind-the-scenes look at Batman: Assault on Arkham Asylum is intriguing as the next DC Universe animated feature looks far more engaging and emotionally charged. Another featurette about Damian Wayne only serves as a reminder that the rivalry between Dick Grayson and Damian angle falls flat.
The Fang and the Demon Head: The League of Assassins (10 mins)
Strange Blood Ties: Damian Wayne (15 mins)
Designing the Characters with Phil Bourasa (10 mins)
Batman: Assault on Arkham Sneak Peek (7 mins)
From the DC Comics Vault (88 mins) – Four episodes from Batman: The Brave and the Bold, Batman Beyond and Batman: The Animated Series, with all offered in standard definition. That's a shame for half of them considering both of the Brave and the Bold episodes are available in HD on the Season 1 Blu-ray. I chalk that up to space limitations.
Son of Batman
is a radical departure from the direction of other DC Universe animated films and unfortunately comes up short compared against the other films in the ongoing series. If Batman is to have a son — a major event in anyone's life, especially for a superhero — then it needed to be handled with care. The Blu-ray presentation also comes up short across the board, resulting in a mediocre package that will only appeal to the true DC Universe completest that feels Batman always walks on water.
TheHDRoom may be paid a small commission for any services or products ordered through select links on this page.