Just when you thought it was safe to let your brain go to waste, a new player in the "daily brain training game" genre has arrived to help you get that three pound lump of gray in your skull back into shape.
The game is called Smart As…, and for PS Vita owners, the time has come to get smart. Smart As… uses a daily collection of thought-demanding games and puzzles to help stimulate your synapses, and then rewards you for steady progress and allows you to match your stats with the rest of the world.
There are four subjects that the player is tested on: Arithmetic, Logic, Language, and Observation. The daily tests are a handful of random games, and your results add to a running tally each day that can be compared.
In addition to the daily test, there is a freeplay option that allows you to try and get the best, and highest scores. There are five games for each subject, and each game has four levels of difficulty, from easy to genius. The freeplay games are unlocked with successful completion of the daily tests, and the harder difficulties are unlocked in natural progression.
It all seems simple, but it doesn't stop there. Smart As… gives players so much information to take in, including charts, analyses, comparisons, that a simple game of observation, called Rapid Recall, can be dissected to show you how your brain interprets the game, and then it will tell you how you stack up against similar players worldwide.
The games and puzzles themselves seem relatively simple, and are designed to be played quickly. The daily tests last less than ten minutes, and each freeplay game can be completed in a matter of seconds.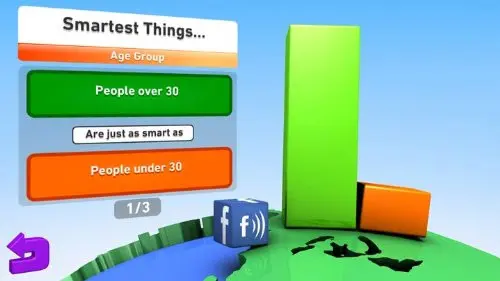 But the game and puzzles are challenging where it counts. One of the language games, called Word Wheel, gives you a series of letters on a wheel, and using the PS Vita's front touch screen, you spin the wheel, selecting the letters to make a word. It is harder than it looks because of the wheel, which makes letters in the back appear backwards. It is also more challenging than it appears. Your brain has to learn to see the letters (even backwards) and use them. And of course, everything is timed.
Successful attempts are awarded with stars (three each, per game and difficulty level) and three stars unlock harder difficulties. And even at the harder difficulties, there is always the drive for a faster time and a better score. The gamer in me is obsessed with this, and all the while I'm trying to do it faster and better. I'm giving my noodle a solid workout.
Developer CLIMAX has pulled out the stops in terms of game presentation. Using the Unreal Engine (seriously) and bringing in the venerable voice of veteran actor John Cleese, every game looks, feels and sounds fun. Cleese is always good for a chuckle, as he verbally applauds you and also insults you, usually at the same time. The dry, acerbic wit fits Smart As… perfectly.
Lastly, the load screens must be mentioned, as Smart As… will sneak in information, stats and facts while you are waiting for the next game to load. And the facts are interesting; such as the percentage of people in the world who think the chicken came before the egg, or that the human brain weighs three pounds. The load screens are even tailored to my gaming experience. Case and point: my scores have been tallied and matched against the world and I am smarter than anyone that thinks the chicken came before the egg. Hey, facts are facts.
The inherent features of the PS Vita system are also on full display. Both front and back touch screens are utilized, as is the built in six axis motion controls. But even above the user interface, Smart As… takes advantage of various other features, such as AR Play, which allows the player to use one of the AR cards that came with the PS Vita system to play the daily games in unique settings.
Also, you can connect to the PlayStation Network to take advantage of online features. The near feature is fully realized with game sharing and personal challenges to friends and the public. These challenges are normally time based, but they can also be score (star) based as well. Smart As… will use the location information taken from the near integration in establishing local, national, and world rankings. And best of all, it's seamless.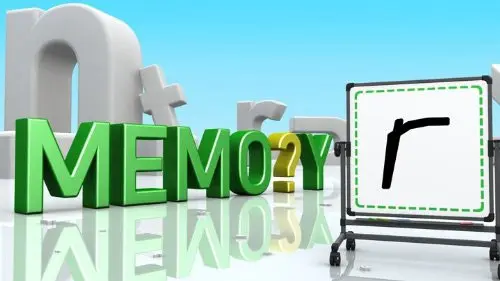 One of my favorite features in Smart As… is the Street Smart Challenges. These are a series of random games, given in random difficulties that can be played for stars. The player is ranked on the amount of stars collected. This challenge is localized to where I am geographically in the world and then when the results are posted, I represent my town…unless there is someone smarter than me down the block (there is, actually…but not for long!) Street Smart also allows you to play games that haven't been unlocked yet (at least in the beginning), so I got a good taste of what was coming.
The LiveArea includes any new near challenges that may have been made while the player was away, as well as a quick link to AR Play, a ticker with new information on my world rankings, and of course, the owner's manual.
There was a time a few years ago that Brain Training games ruled the handheld market. Seemingly, that time has passed, but maybe not for good. Smart As… is a perfect game for the on-the-go PS Vita player, and getting some brain training never hurt anybody. In fact, everyone should exercise his or her noggin every once in a while. The different games and puzzles are fun and challenging, and the use of the full spectrum of the PS Vita's features makes it unique. Smart As… looks great, and sounds great, thanks to John Cleese and his snarky narration, and best of all, it plays great.
Smart As… is available on both PS Vita digital and game card formats.
Shop for Smart As… at Amazon.com (October 30, 2012 release date).