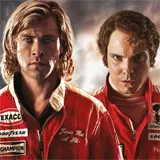 "25 drivers start every season in Formula One, and each year, two of us die. What kind of person does a job like this? Not normal men, for sure. Rebels, lunatics, dreamers… people who are desperate to make a mark and are prepared to die trying." – Niki Lauda
In Ron Howard's latest feature Rush, two of those people are brash Brit James Hunt (Chris Hemsworth) and a stern, no-nonsense Austrian named Niki Lauda (Daniel Bruhl). The two were professional drivers during the "Golden Age of Formula One Racing," known better as the 1970s. Hunt was a womanizing, partying young man who lived each day like it was his last. Lauda, on the other hand, was a self-disciplined, hardheaded individual who prepared for a race like no other driver did. The two met during a Formula Three race in 1970, a competition where Hunt beat Lauda after the two spun out while turning a sharp corner during the race. This mishap gave birth to a rather unique rivalry between the two that lasted for the better part of the decade. While each was driven (no pun intended) to beat one another on the track, they also needed each other to motivate them to be the best.
Ron Howard reunited with his Frost/Nixon screenwriter Peter Morgan for Rush, which might explain why the two share similarities. Both deal with two starkly different, self-centered individuals who feed off of the intensity of the other's desire to be the center of attention as they barrel towards each other in the film's concluding event. For Frost/Nixon, it was the legendary television interview. In Rush, it's the 1976 Grand Prix championship race in Japan. And just as he did with his 2008 Best Picture nominee, Howard's attention to period detail is excellent without being overwhelming (think American Hustle), his focused directing keeps the viewer riveted throughout (the racing scenes are technically brilliant and exciting) and he gets first-rate performances out of his cast, in particular his two leads.
Morgan's screenplay is an intriguing study of contrasts, rivalry and what motivates individuals such as James and Niki to put themselves behind the wheel of a "bomb on wheels encased in metal" to drive at speeds up to 200mph. Despite being friends with Lauda in real-life, Morgan's script doesn't take a side in the rivalry between the two drivers. They have their strengths and flaws, and neither is portrayed as being all that likeable. Viewers who want their movies and characters as one-dimensional and black-and-white as possible may be put off by the way the two main characters are portrayed. But for those who are like some realism in the films based on real-life, a little bit of character shading that goes a long way in building viewer empathy.
If there is a cinematic pothole to be found during Rush's speedy 123-minute running time outside of the occasional sports drama cliche, it would be the sequences involving the driver's wives. Olivia Wilde plays fashion model Suzy Miller — who is briefly married to Hunt — and Alexandra Maria Lara plays Niki's supportive spouse Marlene. While the scenes of the Lauda's domestic life are given enough screen time to make them passable, the ones involving Suzy and James' rocky relationship are as undercooked and by-the-numbers as they come. They add little if anything to the overall picture and should have been regulated to the "deleted scenes" department on the Blu-ray.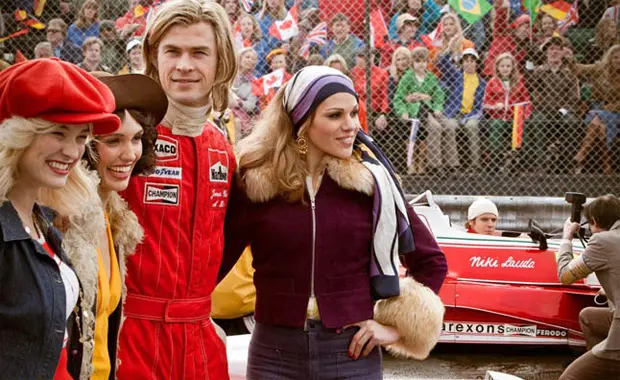 Ron Howard is a director who has had his share of great (Apollo 13, Cocoon, Night Shift, Parenthood, Splash and the aforementioned Frost/Nixon) average (A Beautiful Mind, Cinderella Man) and downright horrible (The Grinch, The DaVinci Code and Angels & Demons, Willow) films over the course of the past three decades. With its superb driving scenes, compelling true-life story and accomplished acting, Rush is a film that definitely comes close to being among Howard's top-tier features. Yes, it veers into familiar sports drama territory from time to time and the domestic sequences are a good time to go get a snack, but those deficits are minimal in comparison to the overall enjoyment value the movie provides.
High-Def Presentation
The great cinematographer Anthony Dod Mantle shot Rush using a multitude of digital cameras, including a Canon EOS 1D Mark IV and a Go Pro HD. To achieve the proper atmosphere from the 1970s, the film color scheme was played with extensively in post-production. Universal's 1080p/AVC-encode of Rush effortlessly captures the intended look Mantle and Howard set out to achieve. A few minor instances of black crush pop up in the background during a few of the racing scenes. That aside, every aspect of this Blu-ray transfer is very impressive.
Also top of the line is the at-times bombastic 5.1 DTS HD-MA track. The roar of the engines is almost loud enough to think the cars are in your living room. Directionality across the front and rear channels is as clear and concise as the center-channel dialogue while the LFE channel supports the film's action beautifully.
Beyond the Presentation
Rush is accompanied by approximately an hour of bonus material. While it would have been nice to have a little more documentary footage on the real-life Lauda and Hunt or perhaps even an audio commentary with Ron Howard and the real-life Niki Lauda, the bonus material presented offers decent insight into the production as well as the real-life rivals. All of the bonus material is presented in 1080p high-definition and 2.0 stereo.
Deleted Scenes (10:49): There are ten excised scenes presented on this disc, most of them centering around Lauda: Niki is Refused a Loan, Niki Agrees to Terms With Stanley, Regazzoni Impressed by Improved Car, Niki Stands Agnes Up, Podim: Niki Towed Back, Mechanic Reports to Enzo, A Drunken James Punches Mirror, Bubble Phone Conversation/Stewardess Scene, Niki Gets a Massage and Niki Arrives at Fuji Race With Marlene. None of the deleted footage would have added much to the film outside of its running time. The footage appears to have not been put through the post-production tinkering mill as it appears to be a bit drained of color and a bit on the soft side.
Race For the Checkered Flag: The Making of Rush (31:39): An EPK-esque look at the making of the movie that covers aspects such as the film's origins, writing, casting, location shooting, and achieving the right look of the period and Ron Howard's filmmaking style. Interviews with Howard, Morgan, Hemsworth, Brul, the real-life Niki Lauda and others are included.
The Real Story of Rush (18:33): A three-part look at the real-life participants, time and events that the movie is based upon. An interesting watch that is all too brief.
Rush had a subject matter that limited its North American box office to a gross below $28 million (it did considerably better overseas) which is too bad. The excellent racing sequences that populate the film were made to be experienced on the biggest movie screen possible. That said, the movie still packs a home-theater punch on both a visceral and entertainment level. Universal's Blu-ray has a demo-worthy picture and audio transfer that is accompanied by a small but impressive set of bonus materials. One of Ron Howard's better features of late, Rush comes highly recommended on Blu-ray.
Shop for Rush on Blu-ray, DVD and Digital HD combo for a discounted price at Amazon.com (January 28, 2014 release date).