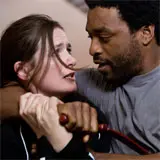 Filmmaking icons like David Mamet are under a critical microscope every time their hands touch a new piece of work. Past triumphs handicap future creative exploration under the weight of lofty expectations from everyone but themselves. Ask John Lassiter what critics thought of his childhood-influenced diversion into the world of Cars and Route 66 and his eyes will likely roll flush into the back of his head.
Redbelt is the Cars of Mamet's career; a juxtaposed collection of Mamet's personal interests, Jiu-jitsu, and commentary on the shady business underbelly of Hollywood. Otherwise why would a writer and director of his pedigree delve into the relatively sheltered world of mixed martial arts after Glengarry Glen Ross? It makes no sense whatsoever, unless there's an emotional attachment and driver behind the move.
Mamet's flair for the unexpected, twists and corruption play a major role in Redbelt, almost to the point of being detrimental to the story. Loose ends are left dangling and plot holes unexplained. Characters appear long enough to toss a stick into the story's spokes only to disappear as quickly as they came. Even the film's namesake, the coveted "Redbelt," is purely symbolic and left intentionally mysterious.
But throughout the shifting and uneven narrative runs a common theme that holds Redbelt together aided by a stoic and humble performance from lead Chiwetel Ejiofor as Mike Terry, a mixed martial arts instructor who has never stepped into a ring. Despite financial and emotional desperation and despite greed and deception, honor, above all else, is the ultimate achievement and belief in sport, business and life. "There is no situation from which you cannot escape," barks Mike repeatedly at a pupil. It's a lesson rooted in Jiu-jitsu but applicable in life.
Nevermind the fact that Redbelt is conspicuously devoid of "action" save for three relatively short fight scenes and builds towards a bout that isn't what it seems. Or that intricate dialogue synonymous with Mamet is replaced by hypnotic Zen-like instruction such as "The other guy has a handicap if he cannot control himself. You control yourself, you control him." Redbelt goes places no microscope could ever pick up on, and that makes for great entertainment no matter how you examine it.
Sony presents Redbelt on a 50GB disc in widescreen 2.4:1 1080p video encode via AVC MPEG-4. Detail is spectacular throughout, a clear standout above DVDs limitations. Colors depth is noticeably flat early on during scenes in a mixed martial arts training facility but opens up dramatically as the action shifts out into the world and into the daylight. Very light grain is persistent throughout with only a small handful of inconsistencies where the grain picks up.
Redbelt doesn't really benefit from a 5.1 Dolby TrueHD treatment outside the final act inside a rocking arena with a boisterous crowd. In these scenes the .LFE comes to life and surrounds are used to fill the room with crowd noise. Everywhere else the mix comes across as somewhat flat and pressed into the front soundstage. When characters speak behind the camera and a change in volume and directionality is expected, it never materializes. Dialogue is always clear and audible, but never as dynamic as it could or should be.
Redbelt's extra features have been ported directly from the DVD version in 480p video with no exclusives.
Feature-Length Commentary by David Mamet and Randy Couture – Davod Mamet has a story for just about everything that appears in the film and it's fascinating to hear a "master" tell them. Couture, on the other hand, is really only good to chime in on fighting-related elements and takes a backseat to Mamet's experience and clout.
Behind-the-Scenes of Redbelt (19:09) – After tooting Mamet's horn for a few minutes, this featurette touches upon production, the cast, fighting and the Mamet sets.
Inside Mixed Marial Arts (18:52) – Mamet discusses his deep-rooted interest in Jiu-jitsu that dates back many years. Most intriguing is a history detailing the evolution of different fighting styles into Mixed Martial Arts via the UFC from the UFC's president, Dana White.
Q&A with David Mamet (26:20) – Kent Jones moderates this candid "question and answer" session recorded in April, 2008 after Redbelt wrapped. It's great complimentary viewing after listening to Mamet's commentary track.
An Interview with Dana White (16:53) – Dana returns and unfortunately a portion of what he says is the exact same footage from the Inside the Martial Arts featurette. There's more to the Dana interview that appears here including an in-depth look at the UFC.
Fighter Profiles (4:11) – Offers quick data stats on the real fighters that appear in the film, both in fighting and non-fighting roles. It's worth checking out whether you're familiar or unfamiliar with the fighters to see where Mamet snuck guys in.
The Magic of Cyril Takayama (4:35) – A quick chat with the actor who plays a Japanese American magician in the film… which Cyril happens to be.
Also included is a connection to BD-Live but at the time of this review, no new content was available on Sony's portal for Redbelt.
Redbelt is an intriguing offering from David Mamet as it falls outside his traditional filmmaking comfort zone yet falls within his personal life's areas of expertise: the business side of Hollywood and Jiu-jitsu. The result won't be remembered as one of his best works. But compared to a lot of what's regurgitated out of Hollywood today, Redbelt is a refreshing peek into the mind of David Mamet dissimilar, in a good way, from anything else available on Blu-ray Disc right now. If you haven't made a "blind buy" in awhile, picking up Redbelt is a great way to "get off the snide."
– Dan Bradley
Order a copy of Redbelt on Blu-ray at Amazon.com.