Rayman Legends is beautifully animated and orchestrated proof that developer Ubisoft Montpellier has discovered how to make lightning strike twice. That's not to say that the umpteen Rayman games released before Legends and its immediate predecessor Origins dating back to the limbless hero's debut in 1985 weren't up to task. However these past two games drum to their own intensified beat and Legends especially is video game platforming at its utmost finest.
A century has passed since Rayman and Globox vanquished nightmares from the Glade of Dreams in Origins and they chose to sleep the entire time and catch up on some much needed rest. Nothing ever goes well when heroes sleep so when the pair awake, they discover that five Dark Teensies have kidnapped the other Teensies and plunged the world into chaos.
Plot was never an engine of the Rayman machine and neither is it with Legends. What made Origins tick serves Legends too with a side-scrolling adventure through colorful worlds, yellow singing Lums to collect, and caged Teensies to rescue. Humor is hit-and-miss, par for the course with this franchise, and the degree of difficulty at times can test the patience of platforming's best gamers.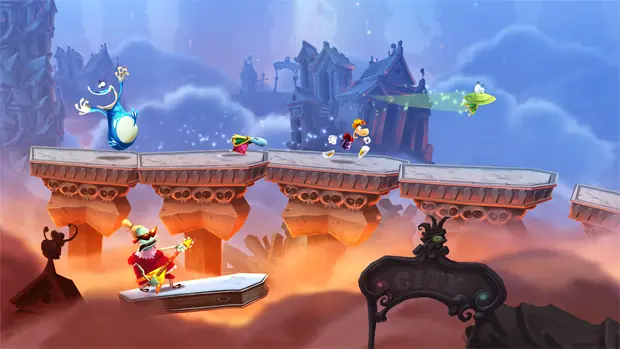 Remarkably the team at Montpellier have found a way to make every level of Rayman Legends feel fresh and not merely an extension of something seen previously, despite a common theme running through each of the chapters where a Dark Teensie resides. It is hard to imagine a way to jump, float, glide, climb, swing, tickle, slide, evade, fall or crawl through a side-scroller in a manner not touched upon in this game. Music-beat driven levels that conclude each chapter are each priceless and demand countless revisits. Aesthetic and design variety is unmatched in the genre and that includes a certain mustached plumber and his pals.
Rayman Legends was originally designed for Wii U and based on my limited time with that version it is the one to own. The GamePad feature of controlling switches by touch isn't as fluid or clean trying to quickly jump between button pushes on the Xbox 360 controller, and the game looks slightly more colorful on Wii U's more advanced hardware as well.
Rayman by nature is whacky and unashamed of it, and for some the overzealous attempts to be different and loosely borrow from other properties for level names, music and instances of design might be tough to stomach for hours on end. If you couldn't get into previous Rayman outings then Legends might leave a sour taste as well. I would hope those in that pool fall into the minority as Legends is brimming with content as far as the thumbs can click.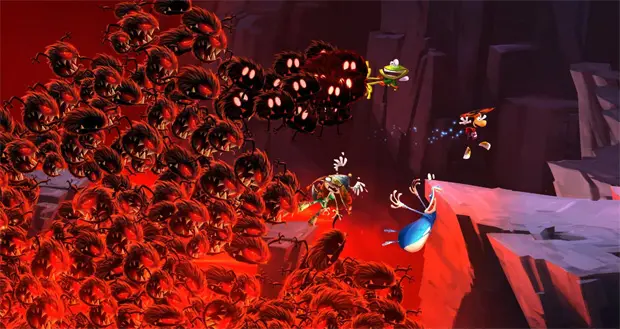 The completion of each Rayman Legends level awards a bronze, silver or gold trophy based on the number of Lums collected. Between silver and gold is a lucky clover card that can be earned and scratched off using the left and right thumbsticks like a lottery ticket. The ticket will either produce some free Lums, a free Teensie to put toward the ultimate goal of 700, a Creature, or a trip Back to Origins.
The Creatures (six types such as toasty and robots) are a collectible item that are only found via the lucky clover cards and displayed in a gallery. If you know what Trash Packs or Moshi Monsters are then they are similar to those. Useless to the game, but a fun distraction to try and collect them all.
Back to Origins is literally the entire Rayman Origins game remixed and offered one level at a time by unlocking paintings via the lucky clover cards. With Rayman Legends you are actually getting two games in one, and it's a wonderful thing especially since those thrilling mosquito riding levels from Origins are not found in the new Legends levels.
Rayman Legends oddly does not offer online cooperative play and that's really its only glaring fault. It does, however, deliver an adequate alternative with daily and weekly challenges accompanied by leaderboards to see how you stack up against three other players whose runs are shown simultaneously via ghosts. Each individual creature collected also offers up daily Lums to snatch up as a reward for checking into their gallery at least once every 24 hours.
There's also princesses to be rescued and then played with, new heroes to unlock all the way up to 1 million Lums required and also play with, and a Kung Fu football distraction mini-game that makes absolutely no sense but there it is. One can easily get lost picking through all of Rayman's menus and content, and do so with a big grin from ear to ear.
It is hard to imagine a better side-scrolling platformer available right now than Rayman Legends and I have convinced myself that there isn't one. Wonderfully charming and equally challenging, there's so much to do and thankfully it can be done on multiple platforms rather than being a Nintendo exclusive.
– Dan Bradley
Rayman Legends for Xbox 360 was provided by Ubisoft for this review. It was released on September 3, 2013 and is also available for PlayStation 3, Wii U, and PS Vita (at a later date).
Shop for Rayman Legends for a discounted price at Amazon.com.