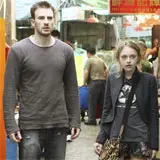 Based from the comic of the same name, Push tackles a new take on a band of people with special powers that combine their efforts to overcome the victimization of humanity. Director Paul McGuigan takes the helm on this adaptation and injects it with a thriller-esque quality that typically isn't seen in movies of this genre.
Push focuses on Nick Gant (Chris Evans) who is developing the ability to move objects with his mind whilst tracked by a shady US government organization known as the Division, This organization genetically, or rather, psychically engineer people to have mental abilities that allow them to be telekinetic, clairvoyant, psychic, etc so that they can use them as weapons. Nick knows this and thus lives in Hong Kong, trying to stay out of the reach of this organization and consequently, others with unique abilities such as Cassie Holmes (Dakota Fanning) and Kira Hudson (Camille Belle) who are similarly exploited by the Division end up in Hong Kong as well to assist Nick.
Visually Push is stunning, bolstered by unique urban locations chaos; so much so that some audiences may be distracted by it. However, the hustle and bustle of it all plays well into the danger posed by the cast's surroundings and gives the bad guys an edge since you never where they're going to pop up which subsequently makes for some very intense action-oriented sequences. The downside to the locations is the movie's bulk is shot in one central spot. Fortunately since this location is so diverse, it rarely looks uninteresting.
The other visually compelling achievement is the effectiveness and cutting edge use of the abilities. They are evoked in a believably subtle manner at times and aren't garishly oversaturated like in some super hero movies.
Evans and Belle fill fairly typical character roles that fail to differentiate themselves from similar films. However, the way Evan's character pulls the wool over the eyes is brilliant, especially when the protagonists collaborate their efforts.
The show stealer without a doubt is Dakota Fanning. Her quirky and charming demeanor supplies the most amusing scenes and even in her most envelope-pushing scene she is hilarious. On the antagonists' side, Djimon Hounsou is a convincing bad guy and his ability makes him exceedingly frightening. The Chinese faction of villains, though not as frightful as Hounsou's character, utilize their powers in an amusingly demonic way and no doubt will the anime fanboys love the villainess of the group.
With the comic industry making such an impression on Hollywood and with so many of them being about a team of individuals with unique abilities, Push will more than likely muster a cult following in the shadows of juggernauts like Heroes and X-Men. Does the movie deserve this? Not necessarily, but what it translates into is a unique and flavorful flick that will more than likely slip from the masses' consciousness rather quickly.
– Chris Walsh