Pirates Of The Caribbean: Dead Men Tell No Tales Review: Where The Sparrow Flies
It's important to remember that the Pirates of the Caribbean film franchise began as a Disney attraction. The first film, Curse of the Black Pearl, did a good job of translating the ride into a film, and introduced audiences to Captain Jack Sparrow (Johnny Depp), a constantly drunk, flamboyant pirate modeled after the movements of Keith Richards. More sequels followed, which greatly expanded the Pirates mythology, incorporating tidbits of true stories and myths, all while telling a grand story of life and love, and the perils of a pirates' life. Pirates of the Caribbean: Dead Men Tell No Tales is the newest addition in what is now a five film franchise, and while 2011's On Stranger Tides was a huge misstep, the ship seems to be righting itself. There's just one huge problem: the franchise desperately needs to lose some dead weight. And that dead weight is Captain Jack Sparrow.
Pirates of the Caribbean: Dead Men Tell No Tales is basically the story of Henry Turner (Brenton Thwaites), the son of Will Turner (Orlando Bloom), who was last seen forever cursed as the new captain of the Flying Dutchman after the events of the third film. Henry wants desperately to break the curse and free his father, and has spent his entire life researching just how to do that. Henry discovers an ancient artifact, the Trident of Poseidon, that can break any and all curses of the sea, and after five films, it seems that the sea is lousy with curses. Everybody seems to be cursed, and so the trident has been sought after for generations, yet no man has ever been able to find it.
Enter Carina Smyth (Kaya Scodelario), a woman of science — which makes her a witch in the 18th century, apparently — who has a mysterious diary from her long lost father that holds the key to finding the trident. Carina is in jail awaiting execution for her witchcraft, and Henry is in jail as he was the only survivor of a British ship that came across the Devil's Triangle and its resident ghost, Captain Salazar (Javier Bardem) and his crew, who destroy all who sail into the triangle. Salazar and his men are rage ghosts — spirits reanimated by the angry trauma of their deaths — caused by a young Jack Sparrow. Salazar is known to spare the life of one man from each ship that he destroys, as "dead men tell no tales." When Henry is saved by the British Navy, he is accused of desertion and is to be put to death for it.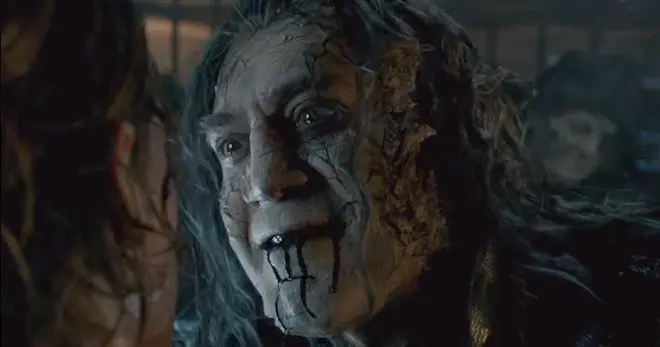 As luck would have it, Henry and Carina come face to face due to the shenanigans of Jack Sparrow (Depp) and his crew, who are robbing a bank in St. Martin, and so begins yet another pirate based adventure throughout the Caribbean. Pirates of the Caribbean: Dead Men Tell No Tales has many call backs to the previous films, going all the way back to Curse of the Black Pearl. Audiences are finally given some backstory on Hector Barbossa (Geoffrey Rush), a character that's been there since the beginning, and even see the moment that a young Jack Sparrow becomes "captain." There are even cameos from franchise characters and even superstar British Invasion musicians.
But all in all, the best parts of Pirates of the Caribbean: Dead Men Tell No Tales come from the stellar effects of Salazar and his crew, including their "pets." The way Salazar's hair moves as if he is forever drowning, and his crew, some of which have been decayed to nothing, is a sight to behold, and their story actually makes Dead Men Tell No Tales a scary Pirates movie again. In fact, I jumped out of my seat in one scene, and I'm not ashamed to admit it. Directors Joachim Rønning and Espen Sandberg have created a huge spectacle here, both in size and scope, which is a far improvement over the last film. The script by Jeff Nathanson, based off a story by Nathanson and Terry Rossio, has a very Pirates feel, and it's all punctuated by the rousing score by Geoff Zanelli, which uses music from all of the previous films. This looks, sounds, and truly feels like a Pirates of the Caribbean film, which was sorely missing in On Stranger Tides.
Unfortunately, the biggest drawback in Pirates of the Caribbean: Dead Men Tell No Tales is in the character of Jack Sparrow himself. There is no longer any vibrancy or surprise in the character, and about halfway through, I began to wonder how the film would work if Jack had just been omitted completely. And it still worked, as this film focuses on Barbossa's and Henry Turner's stories. This argument is encapsulated in a very strange wedding scene late in the second act that goes absolutely nowhere and does absolutely nothing for the story. The best thing about Jack Sparrow was the flashback to the sea battle with  the still-living Salazar. This Jack Sparrow was a bad ass, making commands that a pirate would make. Having the bravado to outwit a ranking member of the Spanish Navy sent to hunt Jack and his kind, and sending them to their deaths. Young Jack was played by Anthony De La Torre, and this is the Jack that we need now, not the tired Keith Richards impersonator that Depp phones in now to collect paychecks.
This film is a visual spectacle (especially in 3D on an IMAX screen) and a rip roaring thrill ride, as it should be, but Depp and his Jack Sparrow are holding it back, and keeping it in the past. The franchise is now 14-years-old, and Jack Sparrow, as a character, is not aging well, and could end up being the cannonball that sinks this ship once and for all. This series still has its sea legs; Pirates of the Caribbean: Dead Men Tell No Tales proves that with a new cast and new ideas. But maybe series producer Jerry Bruckheimer should leave Johnny Depp on an island and move the series in a new and exciting direction. That's what happens to pirates that were no longer seaworthy, and it's a pirates life, after all.
Pirates of the Caribbean: Dead Men Tell No Tales is rated PG-13 and is in theaters now.
TheHDRoom may be paid a small commission for any services or products ordered through select links on this page.