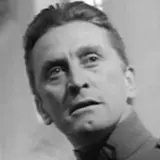 "If the little sweethearts won't face German bullets, they'll face French ones!"
Paths of Glory (1957) includes only a single battle sequence which may seem strange for an "anti-war film." 28-year old director Stanley Kubrick (2001, Dr. Strangelove), just coming into his classic style of objectivist cinema, envisions the WWI French attempt to take "the Ant Hill" from German opposition with expert craftsmanship. Yet, while the utter futility of the endeavor is made abundantly clear, the visual style is too antiseptic to be an effective treaty against the horrors of war. Even more telling is the enemy's presence never being directly shown but only inferred from weapon fire on the battlefield.
Rather than the devastation of combat, Paths delves into class divisions, greed for power and the entailing corruption within the French military bureaucracy. Astute critics have pointed out that these are regrettable but not uncommon human shortcomings restricted to armed combat. So there is a solid argument to be made that Paths of Glory is not a anti-war film, per say, but a study of character foibles set within a darkly, absurd wartime context where the true enemy is within local ranks. Apparently the French government found the negative portrayal of their military affective enough, such that through diplomatic pressure the film was delayed being shown in France till 1975.
What is not in question is Kirk Douglas at the peak of his popularity and acting skills. Caught between blindly obeying a superior officer, with an eye on promotion, by sending his men fruitlessly to slaughter or taking a stand against the system that will arbitrarily try three of them for cowardliness, his performance as Colonel Dax embodies a singular moment of sanity and moral fortitude. And to not overlook the obvious, Paths is Kubrick's breakthrough film where the director's evocative imagery (and nascent obsession with visual symmetry) foreshadows his classic works to come.
High-def Presentation
Criterion's Blu-ray edition is a great way to experience Kubrick's use of lighting and composition that integrally inform the mesmerizing black-and-white cinematography. I've never seen Paths of Glory look better with close-up shots displaying appreciable detail, a tight grain structure, and contrast adeptly handling overcast skies and shadowy dimly lit shots. Not a hint of dirt or scratches is to be found on the high-def transfer. Any deficiencies are, I suspect, inherent in the photography or the limitations of the source materials such as longer shots dropping off in detail or an instance of shimmering in a darker scene (where two soldiers discuss preferences of death by bayonet or gunfire). It should be noted the Blu-ray's image is framed at the film's theatrical ratio of 1.66:1(with thin black bars down the left and right sides of your screen) for the first time on home video (previous releases used an open matte 1.33:1).
The original monaural soundtrack is presented in 1.0 uncompressed LPCM audio that has been digitally cleaned up to remove any clicks or pops. The frequency response is somewhat limited which makes explosions and gunfire a bit underwhelming with a subdued low end and brittle upper register. Yet I expect this is the best sound quality we're likely to get and luckily a big chunk of the film doesn't rely on audio pyrotechnics. Dialog is always robust and intelligible, the somber repetition of the snare drum plays with good fidelity, and echoing of the court hall for the trial is well reproduced. Similar to the video, this is a big improvement for audio quality over previous home video incarnations of Paths.
Beyond The Feature
In comparison to many Criterion editions, Paths of Glory may not have the most robust extras, but, considering Kubrick's reluctance to expound on his own work and how bare bones the MGM DVD was, this is a treasure trove of supplements for fans. The included 20-page booklet contains an essay by Kubrick scholar James Naremore entitled "We Have Met the Enemy…"
Commentary from critic Gary Giddins (recorded 2010) delves into comparison to the inspiring novel (by Humphrey Cobb), Douglas' increasing popularity, putting Paths into the overall context of Kubrick's work, historical background on the actual events and thematic influences on filming, context of shooting style and use of particular shots plus copious info on all the main actors. This is an awesome reference piece for fans of Kubrick and Paths alike.
Stanley Kubrick (2:15) – The briefest of audio interview segments from 1966 discussing hurdles in the film's productions and its critical reception.
Kirk Douglas (29:29, HD) – 1979 TV interview with the main star where, among many topics, he touches on Paths' place in his career. Interesting for fans of Douglas but minimal details around the film.
James B. Harris (21:09, HD) – New interview with the producer as he talks about many production details including not using French accents (which is a detriment to some critics) and how it was to work with the difficult director. Some revealing comments here.
Christiane Kubrick (6:59, HD) – Stanley's widow speaks about her small part in Paths and how her husband's films were often mis-perceived as being cold and too intellectual.
Jan Harlan (9:08, HD) – Kubrick's longtime executive producer espouses on the film-maker's priority of emotional effect over historical accuracy, evocative use of music and casting the right actors to fulfill his vision.
Theophile Maupas (3:12, HD) – A 1997 segment from French news program 'JT Basse Normandie' covering the WWI incident which partly inspired Paths.
Trailer (3:01, HD) – Theatrical trailer.
Paths of Glory may not be Kubrick's absolute best film, but its re-entry into the Criterion Collection (it was originally on laserdisc) has much to recommend for fans and newcomers alike. The high-def transfer makes Stanley's visuals shine and the extras are the best we've seen for this title. Whether construed as explicitly anti-war or a Catch-22 style take on military absurdity, Paths is an intriguing film commendable for themes, acting and cinematography that equally complement each other.
– Robert Searle
Shop for Criterion's Paths of Glory on Blu-ray for a discounted price at Amazon.com.