It was an arduous task. Sam Raimi (Evil Dead, Drag Me To Hell, Spider-Man Trilogy) was picked by Disney to create a big-budget prequel to one of the most beloved films of all times. No matter what Raimi did, the film had to satisfy so many different camps of people that some could argue that it was a no-win situation from the start. Did Raimi beat the odds? Did Raimi succeed where many thought it impossible? Yes and no.
Oz The Great and Powerful opens in Kansas in 1905, in glorious black and white (just like the 1939 classic Wizard of Oz) where a conniving, unscrupulous traveling carnival magician Oscar (James Franco) is wooing women and pulling off cheap parlor tricks to the delight of dwindling carnival crowds. After some nasty business dealing with the carny strong man's best girl, Oscar, who goes by Oz, of course, luckily escapes in a hot air balloon with his bag of magic tricks and his stovepipe hat. Unlucky for Oz is a devastating twister coursing over the Kansas countryside that whisks him away to a magical land (in full, glorious color, again, just like in the original film).
Once in Oz, Oscar meets Theodora (Mila Kunis), one of the Witches of Oz, who tells him of a prophecy that a man with the same name as the land would come and save them all from the wicked witch and claim the empty throne of Oz. Theodora escorts Oz to the Emerald City to meet the other witch sister, Evanora (Rachel Weisz), and for Oz to take the throne. On the journey, Oz seduces Theodora with the same tired shtick that he used in Kansas and she instantly falls in love with him. As they continue on the yellow brick road, Oz and Theodora meet Finley (Zach Braff) a CGI winged monkey in a bellhop suit.
In the Emerald City, Evanora tells Oz that in order for him to get his hands on the many riches of Oz, he would need to hunt down and kill the wicked witch in the scary Dark Forest and take her wand. On the way to the Dark Forest, Oz and Finley comes across China Town, which has been decimated by the wicked witches flying baboons. In the rubble, Oz finds China Girl (Joey King) whose legs are shattered. Oz uses some glue from his magic bag and performs a "miracle." China Girl joins the group and they set off for the Dark Forest.
When Oz gets to the Dark Forest, he meets Glinda (Michelle Williams) who he quickly learns is NOT the wicked witch and that he has been duped by the true wicked sisters back in the Emerald City. What follows is the standard "sleazy, womanizing Oz learning to be a great man and rallying the people of Oz against the tyrannical witches who want to rule them with fear" type story.
What works best in Oz The Great and Powerful is the 3D. This is Raimi's first 3D feature, and it suits his style perfectly. In fact, this is the best 3D I have ever seen committed to film. There are equal parts depth-of-field and in-your-face effects and all of it is glorious. In fact, when Oz first comes to this new, colorful world, Raimi creates a virtual roller coaster ride that is wonderfully unsettling and awe-inspiring. In fact, the 3D and art direction elevate Oz The Great and Powerful into a whole another level of filmmaking, which is good, because the casting is off for most of the film.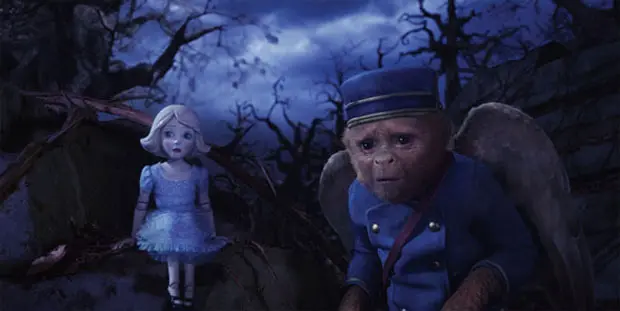 Franco's Oz doesn't work for me. He cannot pull off the "jerk" Oz, which is very important in selling the character's growth and eventual change in the end. Also, his line delivery is unconvincing for most of the film, which has always been his Achilles heel. I think in the hands of a much more capable actor, Oz (the character) could have been magnificent. Zach Braff, first as Oscar's assistant in Kansas, and later as the voice of Finley, could have been a much better Oz, which goes to show you how bad Franco is miscast here.
Another miscast is Mila Kunis as Theodora. When we first meet her, she sells innocent well, and is believable as someone who could be seduced by the shyster Oz, but by the end of the film and after her character's very important story arc concludes, she is laughably unbelievable. I'm a fan of Kunis and I think, just like Oz, that Kunis and Weisz would have been better-suited switching roles, as each would have excelled in the other's role.
As for the story, screenwriters Mitchell Kapner and David Lindsey-Abaire have created a decent prequel to the classic Wizard of Oz. It has decent moments of inside jokes and nods to what audiences have come to know from the classic 1939 film, as well as deeper threads from L. Frank Baum's original books. All in all, it's not incredibly unique or inspired, but it works as a family film and, after all, it serves to highlight the glorious visuals.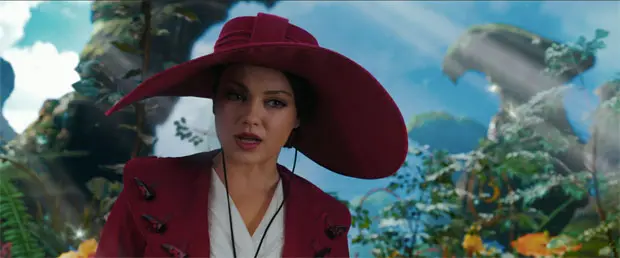 Oz The Great and Powerful is a good movie that is bogged down by miscasting. Visually, it looks stunning in almost every way and Sam Raimi has found a new medium that really accentuates his unique filmmaking style. I have always thought Avatar as the pinnacle of modern 3D films (even though the 3D is the best part of that cliched mess of a story), yet Oz The Great and Powerful surpasses it visually in every way. In fact, in my opinion, 3D is the ONLY way to see this film.
Oz The Great and Powerful is rated PG and opens nationwide on March 8, 2013.