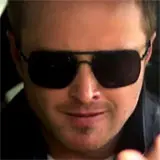 To call Need For Speed the movie an adaption of a video game would be a great disservice. Need for Speed, the popular Electronic Arts game franchise, is a street racing simulation with no real story other than whatever the player comes up with in their minds. And yes, I am well aware that certain titles in the twenty-plus game franchise have tried to add the story element, but the fact that I cannot name one in particular shows how well that was received.
With that out of the way, the film, Need for Speed is actually a fun, exciting thrill-ride of a movie. The story centers around Tobey Marshall (Aaron Paul), a mechanic who is trying desperately to keep his father's auto shop open after his old man dies just prior to the start of the film. To do so, he races in hastily organized, highly illegal races that pop up in and around his hometown in Mt. Kisco, New York.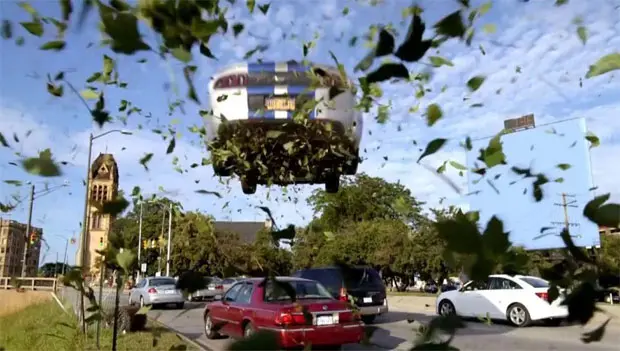 One night a local hero, Dino Brewster (Dominic Cooper) comes home to offer Tobey a job restoring/finishing the actual Ford Mustang that the legendary Caroll Shelby was working on when he died. Dino hopes to sell it at auction, and offers Tobey twenty-five percent of the sale proceeds. Tobey reluctantly agrees, as he and Dino have a past together involving much more than just competitive racing. Dino also stole Tobey's girl, Anita (Dakota Johnson) before he left town to race professionally.
With Tobey needing all the work he can get, he convinces his crew, including Pete (Harrison Gilbertson), Benny (Scott "Kid Cudi" Mescudi), Finn (Rami Malek) and Joe (Ramon Rodriguez) to put aside their collective hate towards Dino because Tobey is in real danger of losing the shop.
Things seemingly go well and the Mustang is sold to Julia Maddon (Imogen Potts), who is working for a collector. Tobey proves that he can get the car up past 230 mph, after professional racer Dino says it's impossible. After the deal, Dino–sore that he was shown up–challenges Tobey and Little Pete to a race with each side putting up their cut of the sale proceeds. This race would turn tragic, and the end result would see Tobey in prison, his father's shop closed for good, and Dino keeping all of the sales proceeds and getting away with manslaughter.
Two years later, Tobey gets out of prison with one goal in mind: beat Dino Brewster in the ultra-exclusive DeLeon race that is sponsored by the mysterious Monarch (Michael Keaton), and is held each year in a secret location. With only 44 hours to get across the country to try and enter the race, Tobey gathers the crew and he's off to get his revenge and his glory.
Need for Speed is unique as director Scott Waugh (Act of Valor) refused to use any CGI or wire work. Every stunt you see was performed with practical effects in real time, with incredibly choreographed driving sequences and stunt drivers. The whole production would make Hal Needham proud. And let me say, the driving sequences are spectacular. There were multiple times I found myself white knuckling the arm rests on my seat. Every jump, lane change, and swerve felt real and was shot in a way that it felt like I was in the seat driver's seat. Also, none of the cars were equipped with magical Nitros for unlimited boosts, so the roar of the engines was the real horsepower on display.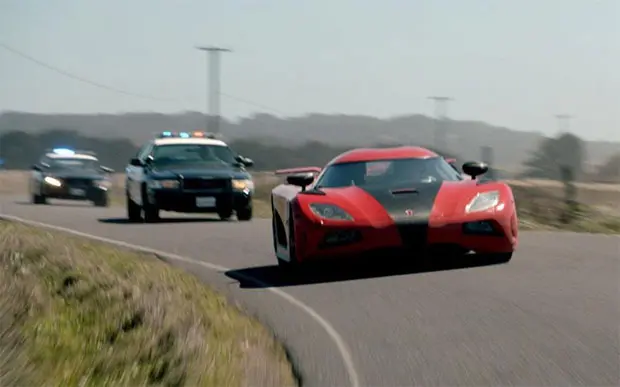 The cross-country trek from New York to California–with a stopover in Detroit for one of the funniest job quitting scenes ever–was very reminiscent of films like Cannonball Run and of course, some elements of Smokey and the Bandit. All in all, Need for Speed is a throwback of sorts to the car porn films of the 1970s, and a welcome one at that.
Aaron Paul (Breaking Bad, Big Love) does an adequate job as Tobey. He plays stoic well and can emote with just his eyes, which is his calling card. Dominic Cooper (Captain America: The First Avenger) is particularly slimy as Dino. If he had a moustache, he would constantly twist it, and for this production, that works.
The real star here is the racing, and of course, the beautiful 2015 Ford Mustang, which is featured near the end in its true first public showing. Both elements are well done, with the racing sequences reaching levels not seen on the screen in a long time, and yes, I am very well aware of that other popular film franchise about fast cars and furious drivers.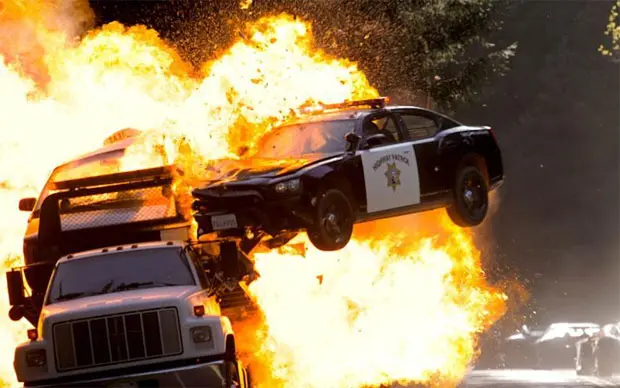 Need for Speed was post-converted to 3D and the effects do little to enhance the production. There were maybe two scenes that I felt needed the gimmick, and one–when a car smashes into a homeless man's cart which sends bags of garbage flying at the audience–was kind of cool.
Need for Speed will most likely be compared the game series from where it gets its name, and the other film series that centers around cars and crime. If given a chance, it can, and will, separate itself from those comparisons and could stand by itself as a fast and fun thrill ride. It wouldn't be a stretch to make this film into a franchise itself, and I think I would be okay with that. I would definitely race back to the theater to see it again.
Need for Speed opens nationwide on March 14, 2014.