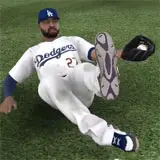 The thing about San Diego Studios perennial sports powerhouse, MLB: The Show, is that it is so good, so well put together and feature heavy that it's truly hard to measure it with each annual edition. A steak is a steak is a steak, and when you first boot up the new edition each spring, you pretty much know what you're getting.
With the PlayStation 4 version looming, San Diego Studios saved the best for last (generation) with MLB 14: The Show. Sure, it was almost a month late hitting the market, and the PS4 version is still a few weeks away, but the wait is so much worth it, as the already full-featured game has found still new features, some so incredibly welcome that it changes the entire game. Yes, it's that profound.
MLB 14: The Show on the PS3 is as beautiful as it has ever been, with even more unique player models and stances. Finally someone in San Diego figured out how to render Mariners' first baseman, Justin Smoak, who no longer looks like a muppet. But where The Show 14 really separates itself is in the new presentation. Pitching can now be handled via a broadcast presentation mode that puts the camera behind the pitchers right shoulder, just like it is on TV. It took less than an inning to adjust, and less that a trip through the batting order to fall in love with it.
On the offense side, the new presentation keeps the batters perspective on the ball at all times. Blasts to the outfield aren't always easy to call as home runs, or loud outs, which means the player has to be aware when handling baserunners. It adds an incredible new wrinkle to an already wonderful baseball simulation.
The announcing team of Matt Vasgersian, Steve Lyons, and Eric Karros give the game a level of realism as their commentary is tied directly to the game as you play it, but even so, things get repeated all too often after a half season of play.
In addition to the new presentations, the greatest advancement since, well, the Road to the Show, mode comes in the form of all game Player Lock. Now, gamers can choose a single player in nearly all game modes (not online games, obviously), and only play as that player. That means four or five at-bats per game, and you only play the field when the AI determines that the play is going to come your way. This mode has been in Road to the Show mode for years and to have it in all game modes means complete seasons can be played in a long real-time weekend and gamers still feel that they are contributing–still affecting the outcome of games. And the Player Lock can be switched on or off and even be put on another player mid game, giving the gamer massive control on how they play the game. Brilliant.
Another way that San Diego Studios has sped up the game is with Quick Counts. Now, batters can find themselves in pre-determined pitch counts, like a full count, or an 0-2 count, and try to get out of it. It speeds the game up so an entire game can be played in 30 minutes or so. And it is completely optional, so gamers who enjoy playing every pitch can still do so. In fact, any and all features can be adjusted to suit the gamer. I personally can't stand Pulse Pitching and cannot turn it off fast enough when I boot up the game the very first time.
Dynamic Difficulty is a new adaptive AI that tailors the game difficulty to the gamer's skill level and adjusts accordingly as the gamer gets better. DD essentially creates a personal baseball experience that helps figure out how YOU play the game and adapts to those skills. Even for veterans of the series, this mode can create a new challenge to the game without tweaking sliders and finding that mix. The AI does it for you.
Also new in 2014 are Community Challenges, which is like the Challenge of the Week, but players actually create scenarios for other players to try and conquer for XP. The interface is incredibly intuitive and easy to set up and all of Major League Baseball is at your disposal. I have a Community Challenge out there that tasks gamers with going back-to-back-to-back with Robinson Cano, Corey Hart and Justin Smoak at Coors Field in Colorado. Good luck. It's not easy, though I had to actually do it myself before I could publish it, so it can be done.
Perhaps the biggest changes are reserved for the Road to the Show mode, as finally, user-player saves can now be transferred year-to-year going forward. I've been playing RTTS since 2008, and I have six little versions of me playing in various levels of the Mariners organization somewhere out in the cloud. I cannot wait to have my player continue his single career between annual titles going forward. Thank you, San Diego Studios for making this happen.
In addition, created players in RTTS begin their careers with a Topps Showcase, where players play three exhibition games to showcase their skills and have total control of their draft stock. My first time through, I was terrible and was drafted in the seventh — and last — round by the White Sox. I then had the option to sign or to go on to college (two or four year) and do it all again once my education is complete. In my case, my stock dropped even more and I had to go to the hated Los Angeles Angels of Anaheim (you know, the only team in MLB that has no idea where they play or even who they really are). Regardless, it's a new wrinkle to the popular game mode, and it changed everything in how I played, what attributes I chose, and even the position I chose to start my career in. This can all be ignored and the player can be assigned to whatever team you choose, but it's neat to see where I ended up based on my (terrible) skills.
Online play now includes online franchise mode, where you and 29 of your friends can join up and run an organization from the front office. Head-to-head online games are still an issue as serious lag rears its ugly head early and often and in a game where precision matters, lag is the kiss of death. San Diego Studios is working on it, based on the in-game messages, and hopefully this is fixed before the PS4 version hits.
Even after writing over a thousand words on the new features on MLB 14: The Show, I feel like I'm just scratching the surface. It's for this reason that The Show is the highest rated sports game year in and year out, and 2014 is no different. This game, as in years past, is a solid home run that tailors the great game of baseball to hardcore veterans who live and die on stats, stats and more stats, and wet-behind-the-ear rookies who are looking for an arcade experience, and everyone in between. In short, MLB 14: The Show is everything to everyone and that has not changed. And in a few weeks, the PlayStation 4 joins the party with updated graphics and a deeper presentation, if that's even possible. We'll find out on May 6th.
MLB 14: The Show was reviewed on PlayStation 3 using a copy purchased at retail. It was released for PS3 and PS Vita on April 1, 2014. A PS4 version is due May 6, 2014.