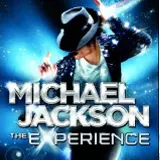 Fans of Michael Jackson have spent countless hours over the past three decades mimicking the King of Pop's signature dance moves in a mirror. Who hasn't tried to unleash a perfect Moon Walk before? I know I have with pitiful results, at least as best as I could tell without a third-party grading my efforts.
With Ubisoft's Michael Jackson: The Experience on Xbox 360 Kinect, you're given the opportunity to "be like Mike" with your full body rather than through timed controller moves found on the Wii version released last November and more recent Playstation 3 Move version. Kinect tracks your body movements and rates you based on how well you mimicked the choreographed moves of the backup dancers on-screen. Bedroom Moon Walkers, this is what you've been waiting for.
There's no opportunity to play through a career mode or unlock additional outfits, songs, etc. in Michael Jackson: The Experience which eats away at the replay value. Your simple goal is to tackle each song at the Master Performance level and pull off Michael's dance moves at the same speed he and his dancers do and when prompted, sing the lyrics on time and in key. Here's a hint: the dancing isn't easy, even with the Kinect's loose scoring that will sometimes offer perfect scores for moves far less tight than they should be. Trying to nail Michael's signature moves while peeking down at a small graphic in the screen corner that show's what's coming up next is not for flat-footed wannabes. Thankfully an inclusive series of training videos are extremely helpful to hone one's dancing skills.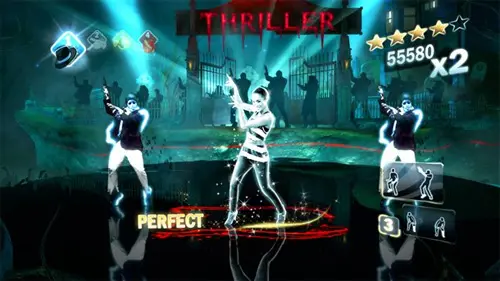 Michael Jackson: The Experience's singing side may surprise some who were expecting to moon walk and nothing more. Rather than overlap the singing and dancing performance techniques, Ubisoft has broken the songs into distinct singing and dancing segments. When it's time to sing, the background dancers disappear and it's just you up on the stage. If your vocals are bad, don't worry. I was able to whistle songs in tune and come up with some satisfactory scores. There's also a Dance Mode that eliminates the singing altogether and replaces it with long breaks in the dancing. Either way you play, it's still hard to think of the game as a true Michael Jackson experience when there is never the opportunity to be scored on singing and dancing simultaneously.
A glaring omission in Michael Jackson: The Experience on Kinect versus its counterparts is the lack of the game's namesake. Using the same technology Ubisoft utilized in Your Shape: Fitness Evolved, Kinect's camera captures the player's image and projects it onto the screen — with the anticipated and expected Kinect lag — where Michael would have been. You are now the King of Pop, which is great for limelight seekers but not so great if you wanted to watch yourself dance next to Michael and try to match his moves side-by-side or consider yourself self-conscious. Kinect could have pulled off simultaneous dance and song scoring if the game's interface were reworked some more.
Michael Jackson: The Experience also offers a cooperative and versus multiplayer modes. Though they really aren't truly "multiplayer" as the Kinect camera only captures and scores one person at a time. For cooperative play, two people take turns and the scores are combined. In versus, the same thing occurs and the person with the highest score during their turn wins. These modes are an unfortunate misnomer but the developers were likely handcuffed by the Kinect's functionality constraints so it's hard to fault them for that.
Michael Jackson fans will be happy to discover that all of his big hits like 'Thriller,' 'Beat It' and 'Smooth Criminal' are present, and some other not as big hits included, too. Exclusive to the Kinect and Playstation Move versions are 'Blood on the Dance Floor,' 'Stranger in Moscow' and 'I Just Can't Stop Loving You,' the latter one of the 'This Is It' concert songs.
There are many reasons Michael is the King of Pop and Michael Jackson: The Experience is a sweat-inducing reminder of that. Kinect is the perfect platform for a Michael Jackson dancing game, but unfortunately the lack of depth and shallow singing segments detract from the initial excitement of learning and busting out Michael Jackson moves. It's definitely a big step up from trying to pull off the Superman pose with only your pet as a judge, though, and will certainly provide some amusing memories and good times.
– Dan Bradley
Shop for Michael Jackson: The Experience on Xbox 360 Kinect for a discounted price at Amazon.com (April 12, 2011 release date).