Mario Kart 8 Review: The Frustration Of Blue Shells, Now In HD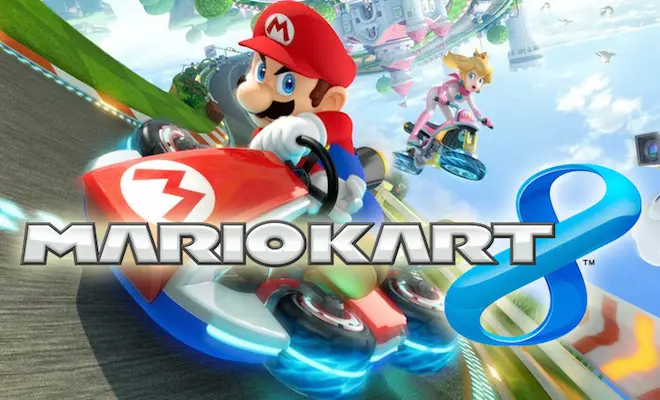 Mario Kart 8 for the Wii U is everything that fans could ever want in a Mario Kart game. It's the same fun, high-intensity kart racing, but now in glorious high definition. Sure, there are upgrades in the play, including the ability to race on walls and ceilings as racers can defy the laws of gravity. While it's a neat feature, the player rarely notices as there is too much going on to worry about whether you are on the floor, wall or ceiling.
Mario Kart 8 boasts the largest collection of drivers to date, all from the Mario series of games. Each driver brings their own unique stat boosts. Mario is very middle-of-the-road, while Bowser, a heavier character, is a bull on the track. The various babies are all very light (and small) and the Koopalings vary in size and abilities.
The amount of Karts (and bikes, off-road vehicles, and scooters) and assorted wheel combinations is astronomical in Mario Kart 8. Most are unlocked by collecting coins within races–which were first introduced in Mario Kart 7 on the Nintendo 3DS–and coins also dictate how a Kart performs and how quickly it recovers from disaster. With this much Kart customization, paired with a full menagerie of racers gives players unprecedented control over how they race.
There is also Miiverse support in the guise of stickers–or stampers, actually–to collect and allows players to compose messages that can be sent to friends and followers.
But what really matters is the racing and how well it looks. For the actual gameplay, Mario Kart 8 is top notch. The Gamepad works as both a controller, or a wheel, and Wii remotes and the Wii Wheel Accessory can all be used, per the players preference. As for the graphics, this is where Mario Kart 8 really shines. The colors pop off the screen and it runs at 1080p all the time. There is zero de-rezzing, even in the chaos of traffic and the tracks look fantastic every time. The power of the Wii U (yes, it is a powerful system) can really be seen while racing as Bowser. You can see each ridge and flaw in his shell, and the Koopa King's tuft of red-orange hair blows chaotically in the air as you race.
Mario Kart 8 features the best collection of new tracks to date. Each track is themed and unique, and there are myriad shortcuts in each level. There are 16 brand new tracks, and 16 "greatest hits" tracks, taken from previous Mario Kart games. In fact, my all-time favorite Rainbow Road track returns, which looks amazing in HD.
There three new weapons/items to collect, including the "super horn," which is the only thing that can truly protect a driver from the dreaded blue shell. And let me say this now, if you are one of those that fires off blue shells from the back of the field, I hate you. I really, really hate you. Other new items include the boomerang, which can be a lifesaver once you learn to control it, and the piranha plant, which is by far the coolest item ever in the game. The racer unleashes a piranha plant that gobbles up coins–and other racers–and even gives little boosts as it reaches out to eat these things. Plus, like Bowser, it looks fantastic in HD.
Mario Kart 8 has local multiplayer racing and online racing, either regionally or internationally. Up to 12 players can race together online and there is zero lag. Players have the option of creating tournaments that other players can enter via traded tournament codes. This makes for some interesting Saturday nights if you get enough players to compete together.
In addition to sticker/stamp collecting, players can save highlight reels and share them online with other players and over social media outlets like Youtube.
Mario Kart 8 is by far the best of the series. There is enough new here to keep the title fresh, and Nintendo has promised DLC support to add new cars, wheels and maybe even racers in the coming months. But even after getting gold trophies in each circuit and then getting all three stars in each circuit on top of that, there is always someone online looking to race, which gives the game incredible replay ability. Just watch out for those blue shells.
Mario Kart 8 was reviewed for Wii U and purchased at retail. It is now available exclusively for Wii U.
TheHDRoom may be paid a small commission for any services or products ordered through select links on this page.