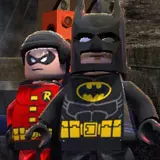 LEGO Batman 2: DC Super Heroes kicks and punches its way onto Nintendo's Wii U nearly a year after the game's original debut introduced fans of TT Games' LEGO suite of games to the open world design concept. Since then, Nintendo themselves published Lego City Undercover for Wii U, upping the open world ante and cutting the chain from relying on a third-party brand to excel. If Lego City Undercover didn't already exist for Wii U then LEGO Batman 2: DC Super Heroes would be a breath of fresh air. Instead, it remains a solid game but feels unapologetically late to the party despite some additional exclusive GamePad features.
Those GamePad enhancements are welcome as they negate the split screen dependence in cooperative play seen on the Xbox 360 and PlayStation 3 version. This isn't evident at first as the default setting is split screen. However, a quick peek in the pause menu allows player one and player two to have a full screen view on the main screen and GamePad, respectively.
TT Games seems to have taken the safe route with GamePad integration rather than spending any additional dollars and time conjuring up creative new uses. During single-player play, the GamePad either offers a map or character swapper, the latter of which is slower than using a face button as you have to look down to see where exactly to push on the touch-screen. Cut-scenes running concurrently on the GamePad and main screen is bizarre and further evidence of lazy or incomplete integration.
Other than the aforementioned GamePad integration along with natural and effective remote play via the GamePad, LEGO Batman 2: DC Super Heroes on Wii U is identical to the other console versions. It's not even a complete version as the additional DLC offered post-launch of the other versions is not available for Wii U, an unusual decision considering late ports to new consoles are typically the definitive versions content-wise.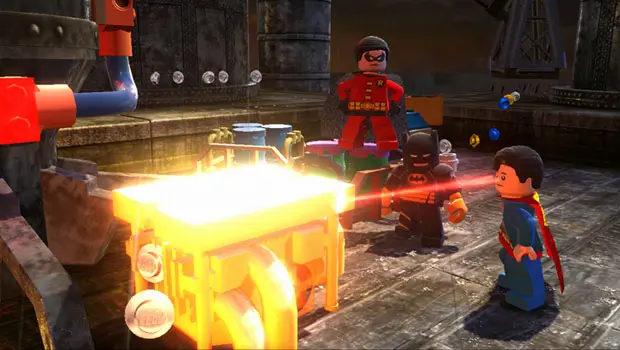 Despite the lack of DLC and the Wii Remote not being conducive to successful grappling or intuitive control schemes, which could have been remedied for player 2 by including Wii U Pro controller, LEGO Batman 2: DC Super Heroes is just as fun and engaging as its other console counterparts. It has the same plusses and minuses, and at the end of the day is good for a few chuckles and an extensive hidden items and collectibles hunt.
The campaign is an original story that sees the Joker and Lex Luthor teaming up to take over Gotham City. Despite Batman's reluctance to accept the help of Superman, he and Robin team up with the "Man of Steel" to uncover a mysterious plot with ties to the Bat Cave.
For a game with "DC Super Heroes" in the title, TT Games relies far too heavily on Batman, Robin and Superman for the majority of the campaign. Only in the closing levels do a small handful of additional heroes join the fray, and by then their participation feels more like a cameo for a cameo's sake. A final cut-scene after the campaign is completed does portend a grander scale in presumably the next installment.
Many of the heroes in LEGO Batman 2: DC Super Heroes share similar powers so even when new ones are introduced, their powers aren't too different than what Batman and Robin are able to do in their various special powers suits. Green Lantern's ability to build objects with his power ring stands out as one of the only true unique powers in the game.
The bread and butter of LEGO Batman 2: DC Super Heroes is in Free Play mode which is unavailable until the campaign is concluded. It is here where all of Gotham City is unlocked and over 100 superheroes, over 50 vehicles, and countless hidden bricks can be found and collected. It's a collectibles hunter's paradise that makes the game's campaign seem like a distant memory.
LEGO Batman 2: DC Super Heroes for Wii U should have been the definitive version of the game considering how late it is being released compared to the other console versions. Instead it lacks the previously released DLC, though does add mostly positive albeit seemingly incomplete exclusive GamePad features. Gotham City is still fun to explore and uncover hidden goodies nearly a year after its original introduction, though the subsequent arrival of Lego City Undercover designed specifically for Wii U does make LEGO Batman 2: DC Super Heroes feel a bit stale and dated by comparison.
– Dan Bradley
LEGO Batman 2: DC Super Heroes was reviewed on Wii U with a code by Warner Bros Interactive Entertainment for this review. It is also available for Xbox 360 and PlayStation 3.
Shop for LEGO Batman 2: DC Super Heroes for a discounted price with free shipping at Amazon.com (May 21, 2013 release date).