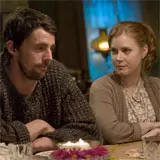 Leap Year is as predictable as the arrival of February 29 every four years and equally formulaic to the most commonly treaded romantic comedy concepts. Anyone who caught the trailer effectively saw the entire story from start to finish told in three minutes or less, right down to the penultimate required proposal scene with the "Wrong" guy while "Mr. Right" glares on in dismay. Its point is to deliver some light romance and laughs along the way – which it does – though a few tweaks could have gone a long way.
Amy Adams plays Anna, a rom-com favorite woman in distress who excels at her job yet struggles to connect all the dots in her love life. In this case the dimwit who prefers a Blackberry to his lady is played by Adam Scott, a man so obtuse to Anna's desires that he springs a pair of earrings on her instead of an engagement ring. After a completely wasted cameo by John Lithgow as Anna's homely father that lasts no longer than the time to use the restroom, Anna is armed with the idea to follow her boyfriend to Dublin, Ireland and propose to him on February 29 in accordance with some old Irish tradition.
The departure to Ireland is welcome not only for the more colorful and organic scenery versus the coldness of New York City, but the beginning of Anna's fish-out-of-water experience when her plane is diverted due to inclement weather and she is forced to travel the Irish countryside by any means necessary to reach Dublin in time. Amy Adams is known for her natural charm and much like in Enchanted, her initial reactions to the new "old" world around her as she's thrown through a cultural wringer, especially her first night's stay in Ireland that results in her knocking out the power to an entire village, quickly erase the mundane first 15 minutes spent stateside.
Leap Year would not be a romantic comedy without the maiden in distress meeting a polar opposite man whose values and background are the complete opposite. The lucky bloke is played by Matthew Goode, a British actor who spews an Irish accent with incredible accuracy. His Irish barkeep character Declan is gruff, witty and tells it like he sees it, usually with well-timed footnotes to Anna's rambling complaints. Goode is given little opportunity to be truly charming behind his dominoes of clever insults, but the growing attraction he and Adams try to stave off is just believable enough to latch onto and ride to the end.
Director Anad Tucker, new to the "chick flick" scene, does an admirable job getting the most out of his leads but leaves room for improvement in other areas. How can Anna be stressed and worried about getting to Dublin one minute and seemingly forget about Dublin as soon as Declan starts whipping up a three-course meal? A gradual transition from one desire to the next would have been more appropriate. Requisite old Irish bar drinking buddies share a fair number of audibly challenged lines but never quite hit the comic high notes they should. Whether due to scriptwriter laziness or Anad's fascination, several jokes like naming a piece of luggage, Declan's nickname for Anna and throwing any old object in the wash are repeated two or more times. Once is enough.
Interested parties in Leap Year know exactly what they are getting into story-wise from the trailer and, trust me, uncertainty was left off the guest list. There are quite a few gentle chuckles to be had, most of which were either in the trailer or similarly executed, and Matthew Goode is, well, quite "good" butting heads with Amy Adams. Leap Year cannot contend with the best romantic comedies of the past four years, but it is friendly and likable enough for pretty much anyone to discover a semblance of enjoyment in.
– Dan Bradley