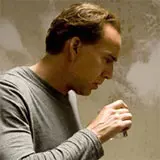 Alex Proyas' Knowing attempts to wade through a swirling pool of philosophy, science and religious undertones only to drown before reaching the deep end. It wants to stand tall alongside blockbuster disaster films and simultaneously send a prophetic message but stands no chance of measuring up with the weight of a silly script and Nicholas Cage's questionable project selection skills strapped to its back.
Cage was cast in Knowing for his natural ability to portray a relatable everyman, not as a believable astrophysicist professor at M.I.T. But that is exactly who is character is; one of our country's greatest minds one moment (ha) and a mourning single father who drowns his sorrow in liquor the next. Without excessive nightly drinking Cage never would have discovered a hidden code buried within a 50-year old piece of paper dug up in a time capsule at his son's school. The Da Vinci Code it is not, but obviously is inspired by biblical predictions buried within hundreds of jumbled numbers in hopes of riding the coattails of Ron Howard's film.
The idea of Earth's disasters being predicted 50 years prior building up to an apocalyptic event is intriguing if it were treated with some semblance of intelligence and respect. Once Cage figures out when and where the next disasters will occur, Knowing derails into a ludicrous mess with some ambitious and thrilling, if slightly cartoony, disaster sequences and disturbing lapses in common sense and logic.
As protective Cage is of his son whose mother was lost in an accident predicted by the numbers, he makes no effort to contact the authorities when strange men begin appearing in the woods outside his home. They even start telepathically communicating with his son and he alerts no one. I nearly hit "Stop" when Cage and Rose Bryne's single mother character enter a decrepit trailer, at night, in the middle of backwoods who-knows-where and leave their two sleeping kids in an SUV "knowing" the men are out there and have already made attempts to snatch the kids.
Proyas has proven he can be a crafty and cunning director with a constrained budget in his previous acclaimed efforts Dark City and The Crow. In his commentary he comes across as genuinely excited and proud of Knowing portraying it as some deep and meaningful film. Once it slides into a third act so religiously self-indulgent, impractical and nonsensical that I cannot for the life of me relate to his train of thought.
Summit Entertainment surprised us with their exemplary treatment of Twilight on Blu-ray Disc. That same approach pushing the format's quality to its brink carries forth into Knowing starting with a standard snap case and attractive embossed slipcover two-part packaging, carrying through a superb a/v presentation, and sending with 1080i bonus features.
Knowing was filmed using digital cameras that provide a razor-sharp 1080p picture on Blu-ray via AVC MPEG-4 encoding. Framed at its original aspect ratio of 2.35:1, Knowing is completely devoid of any print damage associated with traditional film and has not been altered via edge enhancement or digital noise reduction to sharpen what is already naturally a clean image. Blacks are deep and contrast exemplary despite a rather subdued and monochromatic color palette at times. Detail wavers between perfection and soft depending on the scene and depth of field which is most likely attributable to cinematography style than any issues with the transfer.
The 5.1 DTS-HD Master Audio track proves Summit "knows" how to handle and present lossless mixes. From dialogue to the grim yet appropriate score to low-end depth to pinpoint accurate and enveloping surround use, Knowing's audio mix – especially during the disaster sequences – is worth revisiting a second or even tenth time. I would pass along any faults but, unlike the film, there are none.
Commentary with Director Alex Proyas – This audio commentary begins unusually with Proyas explaining how his favorite commentary track is two people having a conversation and he's stuck rambling on by himself. Then someone, assumedly from the disc production crew, jumps in and helps Alex by asking him questions a typical moviegoer might want answered. Together the duo offer intelligent conversation about the film's themes, goals and process of construction in a commentary more intriguing than the film it is attached to.
Knowing All: The Making of a Futuristic Thriller (12:36, HD) – Starts off with the key cast and crew patting each other's backs but eventually makes its way into the single-shot airplane crash sequence and how the effects crew and filmmakers executed it. The victims in this scene had to endure multiple days rehearsing and shooting the same stunts. Skip the beginning fluff in this making-of piece and start with the crash.
Visions of the Apocalypse (17:15, HD) – Various psychological, scientific and religious experts chime in with their views on the origins of apocalypse as an event and its impact on our culture. Reason to not skip this featurette comes when they tie in the numbers and ideas from the film into real-world examples of apocalyptic prophecies presented throughout time, specifically Scientology.
Knowing shows signs of life every so often but ultimately is a storytelling mess of apocalyptic proportions. Yet it performed well theatrically much like Alex Proyas' other poorly reviewed film, I, Robot, which should translate into strong Blu-ray and DVD sales. Check Knowing out for Summit's strong audio and video presentation and then take heart in "knowing" you'll never have to sit through it again.
– Dan Bradley